Josh Pressnell's iBookshelf is a relatively modest database application for the iPhone and iPod touch designed to help keep track of your books. The idea here is to give bibliophiles a convenient way of tracking what's in their library (including e-books), what you want to add, and what you have lent to friends.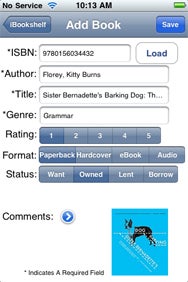 Although the app necessarily pales in comparison to Delicious Library, iBookshelf's simplicity is a virtue. And unless and until Delicious Library is let back into the App Store, bibliophiles' options are few. (A similar iPhone app, Juicy Library, does not stack up well. But unlike iBookshelf, Juicy does handle media other than books.)
With iBookshelf, you enter an International Standard Book Number, and the app automatically retrieves title, author, and genre information. The ISBN is required. iBookshelf doesn't support UPC or ASIN codes. But if you happen to own a lot of books published before 1967, not to worry: You can enter any old random 10-digit number, along with your author and title data, and iBookshelf will add your book to your virtual library with no trouble at all.
The app does a fine job of letting you browse and sort your library. You can search or sort by title, author, or genre. You can also sort by "status," which shows which books you own, as well as which books you've lent, borrowed, or would very much like to buy or borrow in the future. Also helpful is a Statistics page, which summarizes how many kinds of books, authors, and genres are in your library, along with how many books you own, have loaned and have borrowed. A comments field under each entry allows you to note where you might have borrowed a book or to whom you have lent a certain title.
As a bonus, iBookshelf will show you where the best place is to buy a book online, drawing from at least half-a-dozen sources, including Amazon, Abebooks, eCampus.com, and Powell's.
iBookshelf does have a few annoyances and drawbacks, however. The app has a "bookshelf" feature that allows you to browse your books in landscape mode. But beyond gazing at book covers, you cannot actually retrieve any book data and the author and title information that does display is almost impossible to read.
Also, the default settings are the only settings in iBookshelf. So you had better remember to select a format and a status—otherwise all of your books will sort as paperbacks on your "want" list. What makes this annoying is if you have a lot of books to input—say, hundreds or even thousands of titles—it's no small inconvenience to tap additional buttons with every entry. A future version of the app should let users set their own preferences, so that all new entries can be "owned" rather than a "want," or hardcovers rather than paperbacks. Pressnell says a user preferences feature is on his to-do list.
Now, if you do have a large library and you have kept on top of your books in a database of your own devising, you can import your books into iBookshelf from an Internet server. However, the file must be in CSV format and it must include ISBN or equivalent numbers as the first column. So the import function, while useful, may only be of limited utility.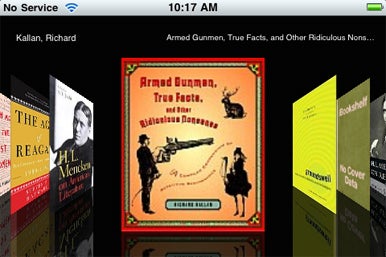 Another drawback with iBookshelf is the network backup feature. The app lets you back up your data online to the developer's server. Several apps let users backup their data to their own Web servers or to their desktop or laptop. It isn't a difficult feat—or shouldn't be, anyway. Pressnell also says he's developing an installable Java-based application to let users have direct backup access to a PC.
I also wondered what, if anything, Pressnell was doing with the data users put on his server. "Currently, the data is not used by me in any way," Pressnell told me in an e-mail. "Users have access to their own backup lists through my Web site, and can provide the passwords they choose to anybody if they want to give folks access to their book lists."
Pressnell says he eventually wants to expand iBookshelf's View My List option to give users book recommendations based on their stored data, but insists he will not use or share the data with anyone else. I'm not sure that recommendations would be a valuable addition to iBookshelf.
A free "lite" version of iBookshelf limits the database to just four books and doesn't allow for any backups or imports. Trouble is, it's difficult to get a proper feel for this application with just four books. If a simple, easy-to-use library app is what you seek, iBookshelf isn't a bad way to go.
[Ben Boychuk is a columnist and freelance writer in Rialto, Calif. Feel free to e-mail him.]