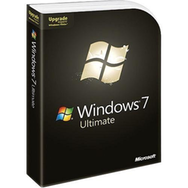 While most of the world is united today, rejoicing over Microsoft's release of Windows 7, Mac users will need to hang on to their party hats and streamers for just a little longer. Even though Amazon says Windows 7 is the top-grossing pre-order product in company history, Apple says that Boot Camp users will have to wait a little longer before tearing open their boxes.
A new support document from Apple confirms that the company will indeed support Windows 7 Home Premium, Professional, and Ultimate (the three "core" versions Microsoft pushes to the general masses) via its Boot Camp software. However, it sounds like only users of Snow Leopard (which includes Boot Camp 3.0, for those keeping track) will get official drivers from Apple. Even then, in a time when Microsoft has managed to get much of the PC industry on board to support its latest OS on launch day, Apple is a little late with an update that is scheduled to arrive "before the end of the year."
Another bummer is that owners of specific early-generation Intel Macs will unfortunately be left out in the driver-less cold. Listed in Apple's support doc are nine models across three different Macs lines that "will not be supported for use with Windows 7 using Boot Camp." It's basically the first-generation Intel iMac, MacBook Pro, and Mac Pro, which were all released in 2006. Exactly why these models will not be supported is unclear, though the obvious assumption is that Apple decided not to support some piece of hardware, perhaps some kind of logic-board controller, specific to these models.
For what it's worth, I have both good and bad anecdotes to share about Windows 7 support in an older and a newer Mac. I've been running the release candidate on my Early 2006 Mac Pro for some time now and, aside from it occasionally waking from sleep for no reason, it generally works fine. On the flip side of this coin, I just purchased a 17-inch MacBook Pro, and the Boot Camp drivers for Vista included on the Mac system disks, er, discs, installed flawlessly in Windows 7, even the 64-bit version.
So, Boot Camp users (no, not you, blanket-Windows-hater), does this "coming soon" support status change any of your purchasing plans for either Windows 7 or a new Mac?