Newtoy has a pretty sweet thing going with its burgeoning and addictive "Games With Friends" platform for the iPhone and iPod touch. The Dallas-based developer released Chess With Friends last year to much critical acclaim, including from me. Chess has improved substantially in the intervening months, and NewToy has reaped the fruits of that progress in its latest offering, Words With Friends.
Words With Friends is a two-person crossword challenge. It absolutely, positively is not Scrabble, so Hasbro's lawyers can serve their writs another day. Sure, there might be a few similarities. It doesn't hurt to know the basic rules of that other game, such as the layout of the board, how to exploit double- and triple-letter scores, and what to do with a string of O's, I's and a solitary X. But I don't ever recall Scrabble being quite so habit-forming.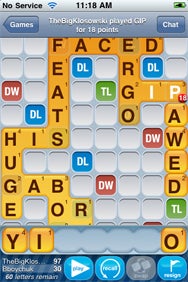 That's probably because it's easier to start a game of Words With Friends. Like its chess-based predecessor, Words With Friends exploits the networking capabilities of the iPhone and iPod touch. The app's interface incorporates all of the improvements that fans of Chess with Friends have come to enjoy. The sign-up process is much easier than it used to be. Simply enter a valid e-mail address and search for an opponent. Obviously, you need a Wi-Fi, 3G, or EDGE connection to play. As with Chess, you can challenge people in your handheld's contact list or you can let the seek app out a random player. You can also invite friends to play through Twitter and Facebook.
Words With Friends lets you have words with friends. The addition of a live chat feature is one of the game's great innovations. A pair of goofy animated googly eyes will show you when a friend/opponent is online and in the game. You simply tap the "chat" button in the upper corner of the screen and type as you would with any mobile AIM client.
If you are accustomed to speedy wordplay, then Words With Friends might not be for you, unless you opt for a pass-and-play game. As often as not, you make a move and wait an hour or a day or two for your opponent's response. Your opponent automatically resigns if he hasn't strung together a word in seven days. (The chat feature also allows for you to urge your online opponents along, but please exercise courtesy and discretion. When one opponent curtly asked me to hurry up, I let him win… seven days later.) The more games you have going, the more satisfactory Words With Friends is likely to be.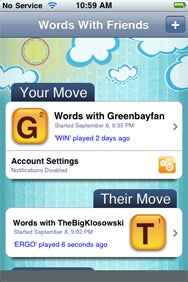 Tracking your games is easier now. A big drawback of Chess With Friends 1.0 was human forgetfulness. A notification feature came later. As with Chess, you can set up the app to notify you of an opponent's move by e-mail or SMS text. The latest update has true push notification, with notices popping up on your phone whenever it's your turn. You can turn the push notification off and on in the app's settings. And the app's main screen will also keep you apprised of your progress. Words has the same three fields as Chess: Your Move at the top shows any moves pending; Their Move in the middle shows games awaiting moves from opponents; and Game Over keeps track of your wins and losses.
The interface is simple enough. My biggest quibble with Words is the difficulty in moving letter tiles to their intended location on the board. The camera will zoom in automatically when you begin placing letters. Most of the time, though, you will need to do some replacing. But you can fiddle as long as you need to before playing a turn. One you've positioned your tiles, tap the Play button. The app will ask you to confirm—you can recall the word if you have second thoughts—and will buzz you if you try to pass off a phony word.
Newtoy also offers a free version of Words with Friends. The only difference between the free and inexpensive version is advertising. Two bucks is probably a small price to pay to avoid full-screen and banner ads. (An older version had a minor bug that caused ads to display the first time you launched the paid app. The latest version eliminates the problem.)
Words with Friends is as challenging and as frustrating as Scrab… er, any crossword puzzle. And nobody will ever know if you consult a dictionary.
[Ben Boychuk is a columnist and freelance writer in Rialto, Calif. Feel free to e-mail him.]