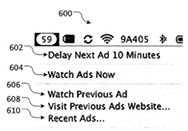 "Want to launch Microsoft Office? Sure, but first a word from our sponsor." That somewhat surreal scenario could become a reality, based on a patent application filed by Apple, which was published today by the U.S. Patent and Trademark Office. If this is ever implemented on your Apple hardware, your Mac, iPhone, or Apple TV may require you to watch and interact with advertisements in order to use them.
The legendary Apple attention to detail is in full force here:
[T]he advertisement screen area includes a response button. The response button is displayed in order to confirm that the user is actually watching the advertisement content. During the presentation of the advertisement content, the response button may appear at a time that the user does not know of in advance, [and] may appear in different screen locations, it may appear with a different size, and/or it may respond to different keyboard shortcuts, etc., in order to confirm the presence of an attentive user…. In contrast, if the user does not click (within the predefined time), then the advertisement does not count.
In other words, forget about having a third-party developer providing you with an AppleScript to bypass this. Unless the advertisement "counts," you'll be locked out of using the device until you can prove you've paid attention. Apple even provides a sample menu bar, which will be haunting my dreams thanks to its Lucida Grande font and obvious Mac integration. This menu allows for the user to "preload" the timer of how long they can use their device without interruption—by watching multiple advertisements in advance.
An ad-supported operating system would likely not be popular with Mac users. After all, a recent scheme to merely embed ads before playing games on a Zune met with resounding cries of dismay across the blogosphere. Presumably, advertising-embedded devices would be sold alongside the models we've come to expect, and hopefully these gizmos would be heavily subsidized. I'm not interested in a Mac with this "feature" under any conditions, but offer me an iPhone with a free monthly plan? Maybe. Just maybe.
Final note for the panic-inclined: Apple files tons of patents, and only a few of them ever see the light of day outside of Cupertino. It's quite possible that Apple only did this to prevent Microsoft from getting there first; that's the point of patenting intellectual property. Some blogs have noted that the first author of this patent is Steve Jobs, and infer that this means this is definitely an Apple priority; I prefer to believe that no one else wanted this on their résumé.