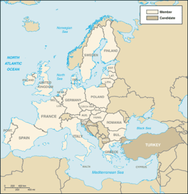 The recession Americans find themselves slogging through doesn't stop at our shores—last year's economic meltdown has been a worldwide phenomenon, with everyone from Asia to Europe feeling the credit pinch.
That's why it was so interesting to see how Apple performed outside of the U.S. during its recently completed fiscal fourth quarter. Much of the focus on last week's quarterly earning announcement focused on record-setting Mac and iPhone sales and Apple's recession-defying performance in this part of the globe. But just as interesting were the stellar numbers Apple turned in from other continents—and whether the company can keep that trend going into the lucrative holiday-shopping season.
Take Europe, where apparently David Hasselhoff isn't the only big thing. A closer look at Apple's fourth quarter numbers reveals that the company tallied $2.49 billion in Europe. (To put that in perspective, Apple raked in $4.3 billion in sales from its Americas market.) Revenue in Europe jumped 45 percent from last year's fourth quarter—that's double the growth rate of revenue in the Americas.
That bastion of neutrality, Switzerland, provides a particularly interesting example of Apple's European success. The land of delicious milk chocolate and precision chronographs is now also home to a unique claim: With its market share in the country over 30 percent, Apple is now the number one computer company in home consumer sales there, according to MacPrime.ch (a German-language site; Google translation here). Factoring in business sales, Apple is in fact the third-largest overall computer company in Switzerland, behind HP and Acer.
Continuing eastward, Apple's revenue in Japan—a landmass arguably smaller than both the Americas and Europe—reached $434 million, an increase of 36 percent from a year ago.
The company's fourth quarter results beat even optimistic forecasts, and the impressive performance drove Apple's stock price to all-time highs. Clearly, these massive year-over-year gains overseas contributed to the company's success this quarter. Surging iPhone sales, in particular—up 7 percent year over year—would seem to validate the Apple's strategy regarding the continued rollout of the iPhone to an increasing number of overseas markets.
Can it continue into the current quarter? There are some encouraging signs for Apple. Starting next month, Orange will start to sell the iPhone in the UK, becoming the second carrier in that country after O2 enjoyed exclusive control over the iPhone since 2007. (Vodafone will follow suit in the UK early next year). Adding new carriers to the iPhone usually translates to more sales for Apple.
The company has growth opportunities in Asia as well. China Uni com is expected to begin selling the iPhone in China soon, giving Apple new-found access to a huge market.