Back in July I wrote about Apogee's Kanex adapter that takes audio and video from a Mac and runs it over an HDMI cable to a HDTV. Combining the video from a Mac's Mini DisplayPort and headphone jack, and running them both via HDMI, was a clever way to get the contents of your Mac to come out of that flat-screen on your wall.
However, the product did have one drawback: no support for digital audio. That's been addressed in a new $70 adapter from Apogee, the Kanex Mini DisplayPort with Digital Audio to HDMI adapter.
The new adapter is, like the earlier model, a small off-white box with an HDMI port on one end. (You supply the HDMI cable to run to your TV.) On the other end of this model are three cables—a Mini DisplayPort cable for video, a USB port to power the adapter, and a Toslink optical port. The adapter comes with a minijack-to-Toslink cable that's compatible with the headphone jacks on Mini DisplayPort-bearing Macs.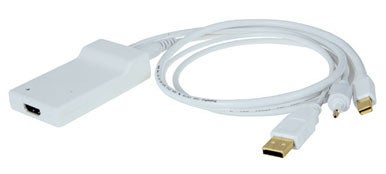 As a result, this new model can transfer digital audio streams, including DTS and Dolby Digital, via HDMI. Good news for people with snazzy home-theater audio systems.
There was only one drawback to the adapter, as far as I could see—the minijack side of the included minijack-to-Toslink cable was so fat, it wouldn't plug into the headphone jack of my MacBook Air. The adapter should work fine with all other MacBook and MacBook Pro models.