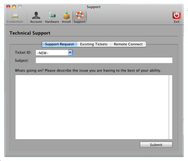 Oh, Psystar. We know you. We lov—well, we put up with you. But still, you continue to let the dream of Mac cloning live on, EULAs, sketchy products, and pending trials be damned.
The company's latest invention is Rebel EFI, a product sold exclusively through Psystar's company store for the "special price" of $50. It claims to offer the ability to run up to six operating systems (including Mac OS X Snow Leopard) on six different hard drives on the same computer.
This all sounds very familiar to us, as though it's based on a virtualization technology that Psystar's been trying to license. Hmm.
Before you dive into this kludge of unsupported engineering, Psystar claims—through the use of legally-binding boldface—that it is "not responsible for possible data loss due to installation or use of Rebel EFI." Assuming that you're down with the idea of spending money on questionably legal software that could destroy anything (or everything!) on your computer, let us tell you what Psystar promises.
Psystar's Web site claims that Rebel EFI uses the company's very own Darwin Universal Boot Loader to load Mac OS X. It also comes with "supported hardware profile features and related drivers, and support for [Rebel EFI]". As for which drivers or hardware profile features Psystar's talking about, we cannot say. Apart from a numbered list explaining how to install Snow Leopard on Rebel EFI, there's nothing on the Web site that explains what will work. Besides in-app support, anybody brave enough to give Rebel EFI a try is really on their own.
Rebel EFI is being offered now for $50, down from the "regular" price of $90. A trial is available that will let you use Rebel EFI with limited functionality for up to two hours, but we honestly have no idea what will happen after two hours.
[via The Loop]