Chronos overhauled both SOHO Notes and SOHO Organizer Thursday, adding a slew of changes to its note management and information organization applications.
SOHO Notes 8 adds new ways to view notes, with Cover Flow and Icon views to go with a standard list view. The application also provides a way to store voice, video, and photo notes. In addition, users will be able to sync notes with their iPhone or iPod touch via the new NoteLife mobile app. (As this article was published, NoteLife was not yet available from Apple's App Store.)
SOHO Notes 8 also features new backup and encryption systems as well as overall performance improvements, Chronos says. The new version costs $40, with a family pack available for $70. Users who bought SOHO Notes 7.x after July 21, 2009, can upgrade for free; otherwise, upgrades cost $25.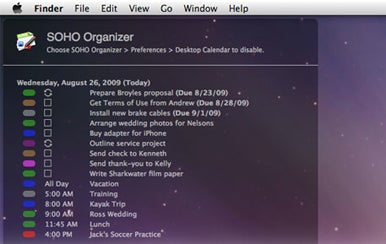 Changes in SOHO Organizer 8 include a desktop calendar feature that puts users' schedules on the desktop for convenient viewing. The look of Desktop Calendar is customizable, and users can position it at any of nine different locations. Organizer also features e-mail integration and the ability to record or shoot video, photo, or voice notes and attach them to contacts. Other features include a new print preview and performance improvements.
SOHO Organizer 8 costs $100, with a family pack available for $180. As with Notes, anyone who bought SOHO Organizer 7.x after July 21 can upgrade for free; others can upgrade for $50.—Philip Michaels
Bug fixes highlight NetNewsWire update
NewsGator on Thursday announced the release of NetNewsWire 3.2.2, the latest update to its popular news-reading application for the Mac.
The new version primarily fixes issues in earlier iterations, such as a bug where command-W would accidentally close a tab instead of a window, a problem where the program could crash while getting the unread count of flagged items, and a broken Check for Updates feature (as a result, you must download the update manually). In addition, NetNewsWire now sports a French localization.
NetNewsWire 3.2.2 costs $10 and is also available as a free ad-supported download; it requires Mac OS X 10.5 or later.—Dan Moren
Delicious Library update rolls out Snow Leopard fixes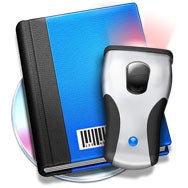 The latest update to Delicious Monster's media-cataloging software, Delicious Library 2.3, was announced on Thursday. The new version incorporates a number of fixes for users running Snow Leopard, including a pair of crashing bugs.
Other enhancements include the introduction of Help files, faster browsing in cover view, and faster selection of large shelves. There are a number of other improvements with iSight scanning, Bluetooth scanners, and the program's Feedback Panel. Delicious Library 2.3 requires Mac OS X 10.5 or later and a license costs $40.-DM
Sente 6 academic reference manager released
Sente updated its self-titled academic reference manager this week, adding synchronized libraries, reference tagging, and PDF markup features.
Sente 6 features synchronized libraries, making it easier to maintain multiple copies of a reference library on multiple computers. The update's hierarchical reference tagging allows users to assign and use tags on references; the tags can be assigned hierarchically, and Sente will treat references with child tags as though they had been assigned parent tags. New PDF markup commands can be used to highlight passages in a PDF file. Also, Sente 6 includes support for hundreds of new bibliography formats.
A single-user license for Sente 6 costs $130; academic licenses cost $90, with an Undergraduate Edition—which works with 250-reference libraries—available for $35. Users who bought Sente 5 on or after January 1, 2009 can upgrade for free; otherwise, an upgrade costs $40.
Sente 6 runs on Mac OS X 10.5.8 and later on both PowerPC- and Intel-based Macs.—PM
Iconfactory updates Twitter client for Mac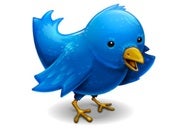 The Iconfactory released an update to its Twitter client, Twitterrific, on Thursday.
Twitterrific 3.2.1 fixes a number of bugs, such as an issue where command-C would not work on Snow Leopard, a problem where tweets were not deleted, and a problem with URLs that use Unicode encoding in the domain name. In addition the program now features a keyboard shortcut to view a tweet in your Web browser: command-shift-left arrow. Twitterrific 3.2.1 requires Mac OS X 10.4 or later—a new license costs $15.-DM
Snowtape adds support for Windows Media streams
Snowtape 1.3, the newest version of Vemedio's application for recording Internet radio, was released on Thursday with support for Windows Media streams, a new option to export songs in the MP3 format, and support for HTTP authentication. In addition, it fixes a number of bugs, such as drawing glitches in Snow Leopard and overwriting existing files when exporting to disc.
Snowtape costs $29 and requires Mac OS X 10.5.2 or later.-DM