Must Eat Birds, developed by Mediatonic is a wacky game that makes you feel like a contestant on a Japanese game show. With a winning mix of humor, challenging gameplay and originality, this $1 app quickly wins a favored spot on you iPhone.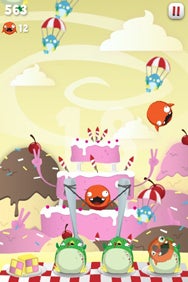 The goal in Must Eat Birds is to protect your cupcakes and other desserts from invading birds. These avian invaders parachute down from the sky with their beady little eyes set on your delectables. As cute as these little birds are, they must be dealt with before they manage to eat all your cakes and end your game. Your only line of defense is to launch Nomsters into the air to gobble them up. Nomsters look kind of like little meatballs with gaping mouths who have an appetite for birds.
Two forks set up with a rubber band between them serve as a slingshot for the Nomsters. To launch them you just pull down, aim, and release. The Nomsters bounce of the sides of the screen, devouring any bird in their path. If you time it just right and get two Nomsters to collide, they become one big Nomster covering more of the screen.
If you eat 25 birds in a row, you activate something called "Maximum Bake." That's what a voice screams when you activate it, at any rate, as the Nomsters no longer fly off-screen and just keep bouncing around, gobbling up even more birds.
Must Eat Birds has a challenge mode in which you try to beat your high score and a Missions mode that plays through all nine levels of the game. Beating the game is no easy task and requires taking advantage of the Maximum Bake bonus. (A free lite version of Must Eat Birds features a single, endless level to give you a taste of the game.)
With wacky characters and colorful backgrounds, the graphics in Must Eat Birds are just awesome. All the text in the game is in Japanese with funny English translation subtitles pasted over them.
The sound effects of the Nomsters gobbling, the birds chirping, and the insane voice-overs only add to the game's hilarity, while the fast-paced Japanese style song playing in the background makes things feel that much more frenetic.
Must Eat Birds is an original game that offers a good challenge and even some laughs, so put on your bib and get ready to nom nom some bird.
[Tim Mercer is a technology enthusiast, graphic designer, and blogger, whose blog, digital-artist-toolbox.com, offers free resources to the digital artist and graphic designer.]