Choosing paint colors can be an enterprise fraught with significant (other) danger and considerable expense. (Need proof? Consider the pyramid of too-bold, not-bold-enough, not-quite-right, paint cans stacked in my basement.) Two new iPhone apps, one from Benjamin Moore and the other from Sherwin-Williams, give you tools to ease your color choice quandaries.
Both Benjamin Moore's Ben Color Capture and Sherwin-Williams' ColorSnap work on the same principal: Take a picture with your iPhone or select a photo from your the photo library on your iPhone or iPod touch, crop the photo for the best color selection, then touch or drag your finger across the screen to choose the color you'd like to match. Each program can also locate your nearest authorized dealer. While there are similarities to these apps, what happens when you choose a color to match varies slightly between programs.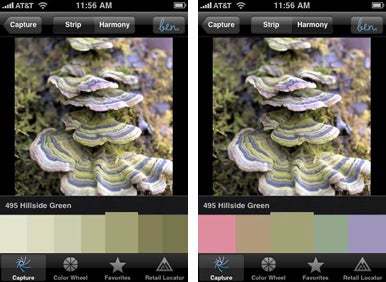 After you choose a photo and select a color to match, Ben Color Capture displays a virtual paint strip across the bottom of the screen, showing the name and associated Benjamin Moore paint color that's the best possible match. Just like a real paint strip, this strip displays six other colors in the same color family as the one you've selected. Tapping any of these colors once displays a larger paint strip; double-tapping adds it to your favorites. You can add notes to any of your saved favorites, and double tapping any saved paint color expands it to fill your whole screen.
Ben Color Capture also has a Harmony button that shows you related, but extremely different colors from the one that you've selected. I also like that when I closed and reopened ColorCapture it remembered the last photo I'd chosen and the the associated paint strip for my last selected color.
Unlike Ben Color Capture, Sherwin-Williams' ColorSnap selects a new picture every time you open the app. I found this to be a real hassle, especially when I received a phone call before I'd saved a color selection.
As with Color Capture, you can touch or drag your finger anywhere on your selected image to choose a color to match, but ColorSnap also displays a small square swatch of color right above where your finger is touching the screen. This made choosing colors easier in ColorSnap than it was with Color Capture because my hand wasn't obscuring the swatch as I moved it around the screen.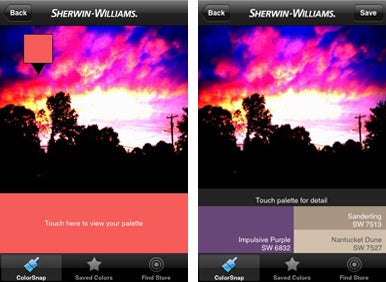 Once you select a color, you then touch the swatch displayed at the bottom of the screen to see the primary color you've selected alongside two complementary secondary colors. Clicking this colorful triad displays larger swatches, which include Sherwin-Williams color codes and let you save your selection as a favorite. ColorSnap has no notes option.
Both programs have some limitations, chief of which is that the app you choose depends entirely on the brand of paint you're using. ColorSnap only works for Sherwin-Williams paints, Ben Color Capture only works for Benjamin Moore. Want to use Home Depot's Behr paint? Sorry, you'll have to run to Home Depot to get a color match.
Also, when you're taking a picture with the iPhone's camera lighting is key. Too little light, and your color selection ends up dull and faded; too much, and your colors end up washed out and flat. Strangely, neither app lets you search for a paint color by its name or associated number.
While both these apps work quite well, in the end I would have preferred a marriage between the two. An app with ColorSnap's complementary color matching and chip at your fingertip combined with Ben Color Capture's paint swatches and the ability to remember what I was doing the last time I used the app. Thankfully, both apps have kept my wife from thinking I'm crazy when I say that the Red Prairie I've chosen for the walls goes great with the Ecru and Tiki Hut she's chosen for the trim.
[ Jeffery Battersby is a writer, IT manager, and (very) smalltime actor living in upstate New York.]