At a Glance
Expert's Rating
Pros
Excellent color quality
HDMI support
Cons
Weak built-in speaker
Skimpy warranty
Limited to 1024 by 768 resolution
Our Verdict
Acer's compact, 2.7-pound P3250 is attractively priced in the ultraportable projectors market. Luckily, you also get excellent image quality.
The P3250's other economic advantage is the cost of its 3000-hour replacement lamp, which is $240. Replacement lamps for other projectors are often priced well over $300. However, since the P3250's native resolution is 1024 by 768 (XGA) pixels, you'll need to set your laptop at the same resolution to obtain the best image sharpness and clarity for presentations.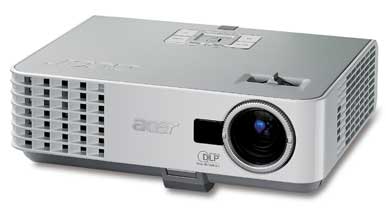 The P3250's most praiseworthy feature is the excellent quality of its images. It delivered crisp, legible fonts in all of our text-rendering tests, and its color images were very strong and vivid, with fine details in both the light and dark areas of our test pictures. The projector earned some of its best scores for its color authenticity in displaying the varied hues of all four seasons in an outdoor-photo series. In DVD-movie playback, the P3250 did exceptionally well in capturing the bright reds, yellows, and blues in Speed Racer, as well as in accurately rendering the earthy browns, tans, and greens in Quantum of Solace. And the projector handled our motion and video tests well.
One of the likely reasons the P3250 projects superior color is that its proprietary ColorBoost display technology uses an additional color (cyan) in its six-segment color wheel, which can help render better results in some images when compared with the five-segment color wheels (red, green, blue, white, yellow) that other traditional projectors use.
The P3250's high brightness rating of 2000 lumens makes it suitable for use in a large conference room with a fair amount of ambient light. In our tests, the P3250 effectively displayed an 8.5-foot-diagonal image at 15 feet from the screen, in a room with moderate ambient daylight.
However, the projector's 1.0-watt mono speaker proved too weak to provide insufficient sound to accompany presentations or videos.
The P3250 is simple to set up, using its three tilt-adjustment feet and its smooth lens zoom and focus controls. Video inputs include VGA, composite video, S-Video, and HDMI. If you have a laptop with DVI or Mini DisplayPort, you'll need a DVI-to-VGA or Mini DisplayPort-to-VGA adapter, which are not included with the P3250.
The control panel on top of the projector is somewhat small and compact, but most of the buttons are big enough to help prevent you from pushing the wrong one. The remote is larger and easier to use than the smaller card-size versions, and it includes a handy laser pointer, but it lacks a hot-button for instant access to its six preset picture modes (Bright, Standard, Video, and others). The well-designed on-screen display is simple to navigate, and it offers an array of image adjustment controls.
One hitch, however, is that Acer's one-year limited warranty (90 days for the lamp) is skimpy compared with the two- and three-year warranties that competing projector-makers provide.
Macworld's buying advice
Acer's P3250 is a good choice if you want an ultraportable projector that combines all the essential features with great image quality. Although it lacks the anamorphic advantages of a native, wide-aspect-ratio projector, it costs considerably less, and it delivers business presentations with plenty of visual punch.
[Richard Jantz is a freelance contributor.]