At a Glance
Expert's Rating
Pros
HDMI support for digital display
Comparatively low price
Cons
No built-in speaker
Limited range of keystone control
Awkward remote control
Our Verdict
Optoma's compact, 2.4-pound EW330 is a lamp-based ultraportable projector that features 1280 by 800 (WXGA) resolution and enough illumination power (a considerable 2200 lumens) for use in a large conference room. It's a good choice for a classroom or lecture hall, too, since it can tolerate a reasonable amount of ambient light without washing out the image. In our tests, for instance, the EW330 successfully displayed a 10-foot-diagonal image at 15 feet away from a clear white wall, in a room with a fair amount of ambient daylight.
The EW330 has a native wide aspect ratio (16:10) that makes it a perfect delivery system for a presentation from a widescreen laptop. It's also a good match for projecting widescreen DVDs and HDTV, and it includes an HDMI port for displaying digital content from HDMI video source. In addition to its HDMI connection, the EW330 provides video inputs for VGA, composite video, S-Video. You'll need to get a DVI-to-VGA or Mini DisplayPort-to-VGA adapter to connect to you Mac laptop, since they're not included with the projector. You'll need to use a separate device for sound, though, since this projector lacks a built-in speaker.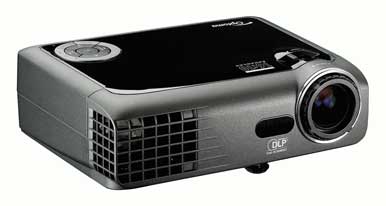 In our image quality tests, the EW330 had excellent text rendering, with crisp lettering in a Web page and in a multiple-fonts page. The projector also rendered warm color shades and good detail in a series of photos depicting the four seasons. In motion and video tests, the EW330 was at its best in projecting a furiously paced car chase in the Quantum of Solace widescreen DVD, displaying excellent contrast and fine details in dark areas. A minor distraction was some pixelation in light areas (such as sky and clouds) during a few video clips; but by changing the default preset display mode (from Presentation to Movie), we were able to decrease those artifacts significantly.
The experience of setting up and using the lightweight EW330 is a mixed bag. It has a smooth zoom lever and focus ring, plus three tilt-adjustment feet for raising the beam of light. Like all portable projectors, the EW300 has a keystone control (to adjust image distortion caused by tilting), but the amount of correction is a modest 18 degrees, while most other projectors offer as much as 30 to 40 degrees of correction.
The EW330's circular control panel puts some of the buttons so close together that it's easy to push the wrong one from time to time, and the small remote control isn't much easier to use. The menu button and selection keys are buried among all of the other tiny buttons, and you get no handy hot-button for changing the preset display mode. The remote's laser pointer is a welcome plus, however. The EW330's on-screen display is easy enough to navigate, and its extensive options include more color controls than most other models have.
The EW330 comes with a two-year warranty and a 90-day lamp warranty. The lamp is rate at 3000 hours, and costs $399 to replace.
Macworld's buying advice
If you want widescreen ultraportable projector, the EW330 is one to consider, though it has a few shortcomings, such as the lack of a speaker and awkward controls. Fortunately, the EW330 offers great image quality.
[Richard Jantz is a freelancer contributor.]