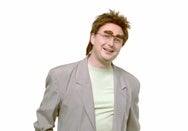 Microsoft officially unleashed Windows 7 upon the world on Thursday and Apple now has an updated Mac lineup for the holidays—you know what that calls for? Why, new "Get a Mac" commercials, of course. In its usual fashion, Apple released a trio of thirty-second spots yesterday, each one aimed squarely at Windows 7 and all of them ending with a shot of the new iMac.
Two of the spots— "PC News" and "Teeter Tottering"—are about how customers who are planning on switching to Windows 7 might as well just choose to go the Mac route, given that they're already going to have to buy new hardware and do a clean install to go from XP to Windows 7. I do love how at the end of the "PC News" spot, John Hodgman says, "Whoa, whoa, whoa, cut that feed please! Let's go to a commercial," only for Justin Long to point out, "We…we are a commercial."
The best of the three, however, is "Broken Promises," where PC promises Mac that Windows 7 is not going to have any of the problems Vista had. It's then followed by a montage of shots from the past where a successively younger (and, er, more "fashionably" dressed and groomed) John Hodgman keeps making the same promise with the release of every major version of Windows. Just check out the 1980s PC from above and tell me that doesn't take you back to the Windows 3.1 era.