Moonlights is a $2 physics-based puzzler from BonusLevel.org packed with nearly 100 levels. You're tasked with assembling a tower all the way to the moon, and it's not easy. Balance is key: Your tower is subject to the whims to gravity, and gravity is one tough mistress.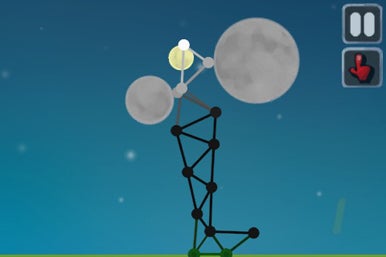 Moonlights does a great job of setting a mood. The game's spacey visuals, coupled with its ambient soundtrack, work well. Early levels feature demos that walk you through how to solve each one; they serve as an excellent tutorial to learn the right strategy. (BonusLevel.org just released the free Moonlights Lite, which limits you to two worlds and 20 levels.)
Once you progress past those first few levels, though, you're on your own. And Moonlights definitely gets more challenging as you progress. Sometimes, you'll need to tilt the iPhone to tweak gravity's pull. Other times, you'll only be granted a finite number of "nodes" to work with, which means you'll need to keep axing some without losing too much of your structural integrity in order to reach the moon—or moons. Yup, in some levels, you need to build multiple towers to reach multiple goals, all at once.
As is, the game is good, but the ability to create your own levels (online, in a Flash-supporting Web browser) and play levels created by the Moonlights community propels it into greatness. User-created levels add infinite depth to an intriguing game, and they're often even more creative (and difficult!) than the levels built into the game.
[Following Lex Friedman on Twitter may just send you over the moon. But probably not.]