On Thursday, EA Mobile unveiled three new games that are coming soon to an iPhone or iPod touch near you. Though no release dates have been set yet, look for theses titles in the coming weeks.
Spore Creatures
Spore Creatures is an adaptation of the creature phase from 2008's evolution simulator, Spore ( ). But thanks to some impressive graphics and an accelerometer-controlled top-down display, Spore Creatures looks to be a game carefully developed for the iPhone platform.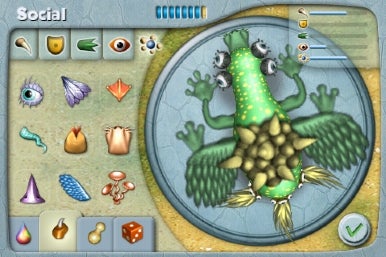 The producer for Spore Creatures, Kam Zambel, sat down with me to demonstrate the gameplay of this evolution simulator. The developers worked hard to create an open world environment for players to explore with their unique critters. The dedication to open-ended gameplay isn't limited to the 20 levels for your creature to scavenge, hunt, and discover, but also to the game's iconic creature creator. Thanks to the iPhone's touchscreen display, manipulating the creature's body is only a pull, pinch, or flick away. Kam explains that with 45 creature parts and five different character traits to level up (offensive, defensive, socialization, movement, and perception), the combinations for unique creatures are virtually infinite.
The game begins when your creature makes its first tepid steps onto land. You'll have to eat creatures smaller than yours to stay alive and collect their DNA to evolve. You can befriend creatures or attack and eat them; each strategy has advantages and disadvantages. You'll also encounter puzzles that will unlock new areas to explore or allow you to defeat "epic creatures" you'll encounter in certain areas. During the demo, Kam showed that in order to get past a boulder, her creature needed to develop legs and pull the rock away.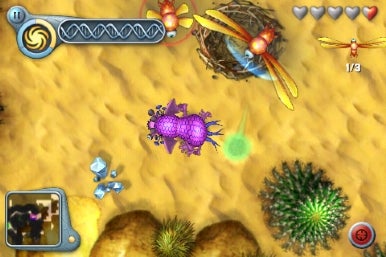 Throughout gameplay, you can evolve three times and reach new zones. You'll encounter new parts to attach to your creature and develop its skills. The zones are varied too, from beach areas to forests to icy tundra. Each has its own unique creatures to encounter.
While Spore Creatures lacks multiplayer, EA is confident that the customizable abilities of the creatures (thanks to Spore's innovative Creature Creator) and the wealth of things to explore will keep players interested. Spore Creatures will be compatible with all versions of the iPhone and iPod touch.
The Simpsons Arcade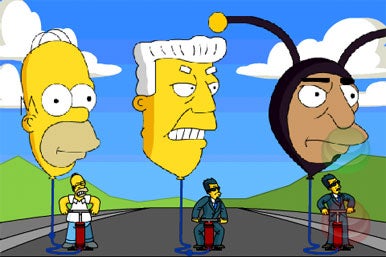 Few cultural icons have the staying power or lasting impact of The Simpsons. Inspired by the 1991 arcade title and featuring the voice talents of the television show cast, The Simpsons Arcade for the iPhone and iPod touch is steeped in authenticity and reverence for the source material.
The game is a side-scrolling beat-'em-up, much in the style of the original arcade game. Steve Robert, producer of the Simpsons Arcade, explains that getting the characters and settings right was a top priority. To that end, Dan Castellaneta, Hank Azaria, Nancy Cartwright, and the other main voice actors all reprise their roles from the series for the iPhone game. When you hear Homer yell "D'oh!" it's the actual voice of Homer, Dan Castellaneta. EA worked with Michael Price, one of the writers for the show, in order to ensure the game was as true to the series (and funny!) as possible.
The plot is something straight out of a Simpsons episode. You play as Homer, who by chance runs into Mr. Smithers while he is in possession of a special donut. Mr. Burns needs that donut and employs half of Springfield to stop Homer from getting to it. Homer, for his part, just wants the forbidden donut.
Each of the six levels features an iconic environment like the Springfield Mall, Krustyland, and Mr. Burn's compound. As Homer, you'll confront iconic bosses, mini bosses, and NPCs straight from the show. On the first level in the streets of Springfield, you'll see Moe idly standing on the side of the street outside his bar. Snowball II runs past you at one point and you'll eventually do battle with Chief Wiggum and Mayor Quimby (both of whom have been bribed by Mr. Burns).
As a brawler, Homer has a full range of attacks at his disposal, including punches, shoulder charges, belly flops, etc. Just like in the original arcade, you can pick up weapons and interact with the environment to a limited degree. The controls are simple too: there's a touchpad D-pad in the corner and a couple buttons on the right. According to Steve Robert, you can earn extra lives and continues by finding trophies hidden throughout the levels and beating the minigames sprinkled through the game.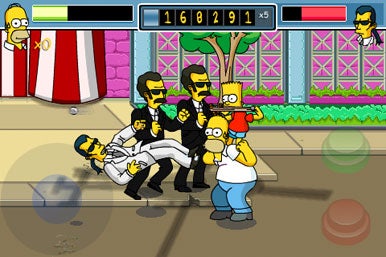 But what of Bart, Lisa, Marge and Maggie? Well, they're in the game, as well. Though not as full playable characters, you can find tokens throughout the game that will call on them to aid you in battle. If you're in a tough spot and confronted by a ton of enemies, finding one of these tokens can clear the stage quickly. Bart rides in and jumps on Homer's back, shooting from his slingshot and taking out enemies. Lisa uses her jump rope and Marge and Maggie grant Homer improved fighting abilities and temporary invulnerability.
From my initial look at the game, The Simpsons Arcade for the iPhone looks to be an authentic and fun brawler. While we'd love to be able to play as the rest of the family, it's understandable that EA wanted to keep the game focused. During the demo, the combat was well balanced, the environments great, and the references to the show numerous. If you've ever wanted to play as Homer on a donut-obsessed rampage, this is your chance.
Need for Speed Shift
Need for Speed Shift, the hotly anticipated sequel to Need for Speed Undercover, looks to offer more gameplay, more replayability, more content to unlock, and improved well, everything. From the stunning visuals to the extensive track and car lists, the game is sure to make every gear head happy.
Nikhil Dighe, associate producer for Need for Speed Shift, showed a preview of the game. The first thing you'll notice is that this is probably the best looking game you've seen for the iPhone. The cars look realistic, the roads are beautiful, and when the soundtrack is thumping, it's a really fun game to play.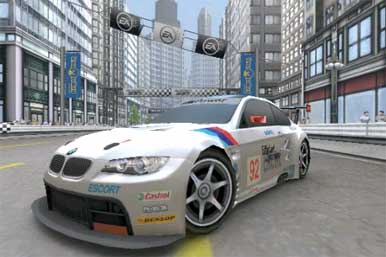 While the game is designed to work on every generation of the iPod touch and iPhone, Nikhil admitted that the game runs best on the iPhone 3GS. Hopefully it will run better on some of the older model iPhones than Command and Conquer, another high-end EA title that really needs the 3GS's improved processor.
There are three modes to choose from: Quick Race, Career Mode, and Multiplayer. The "meat" of the game is in the Career Mode, where you can unlock three cities, four tiers, and twenty-eight events. Like the console games, unlocking content is based on earning stars. You may be able to earn several stars on the first track just by finishing first, but other stars (like leading from start to finish) will take time to unlock and keep you coming back for more. That's why Nikhil believes Need for Speed Shift will offer more replayability than Need for Speed Undercover.
There are 20 licensed cars to earn, though you only start with two in your garage. The soundtrack is a big focus of this iteration of Need for Speed, including 20 licensed tracks from a variety of artists and unique, authentic sounds for each car's engine. Not only can you see a realistic car, but you can hear what it's like to drive it as well.
You can customize your car both visually and technically, offering a selection of kits and assists to improve your car's performance and look.
But what is it like to actually play the game? We got a chance to race Nikhil in head to head multiplayer. The multiplayer mode allows for players to connect over Bluetooth or Wi-Fi. If players have the same access point over Bluetooth, up to four can play at a time. Otherwise, it's limited to two players. Details on what kind of online multiplayer is available have yet to be revealed, but hopefully you can just hop in to a race against a random player online quickly and easily.
During our race, I switched between a cockpit view (which shows damage via a cracked windshield) and a third-person perspective that allows you to more fully see the racetrack (no car damage, however). The visuals were gorgeous and I really appreciated the arrows that helped novice players navigate (otherwise I would have never made some of those turns). I preferred using the iPhone like a steering wheel via the device's accelerometer; it had just the right amount of sensitive and responded beautifully.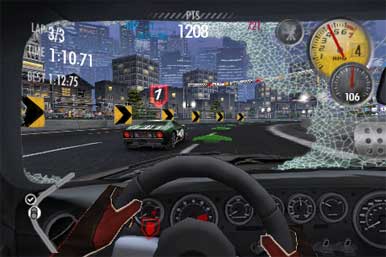 I'm not much of a racing fan, but Need for Speed Shift was a heck of a lot of fun to play. With the soundtrack blaring, the engines revving, and hairpin turns through some truly realistic courses, I can honestly say I've never played a more intense (or fun) racing game on the iPhone.
[Chris Holt is an Macworld assistant editor.]