HDR photography is tricky business. Under the right circumstances, high dynamic range imaging can add a valuable level of detail to a photo and bring it to life. It can just as easily be taken too far and ruin a photo, causing it to look overdone and cartoonish. (And of course, there is plenty of room for personal opinion and taste in this area as well). HDR Camera by MacPhun, allows a selection of filters to applied to your iPhone photos to achieve an HDR look.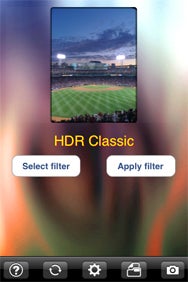 Traditionally, to get the best results from an HDR image, three of more of the same images taken with staggered exposure settings are combined to create one image. Think of a beach at sunset. An exposure that properly captures the sky may lose detail on the sand because it's too dark, and an image that is exposed to capture the sand may loose detail on the colors of the sunset because the sky will be overexposed and blown out. Ideally, an HDR image can balance these extremes out, and give an image that represents the whole scene. Unfortunately, in my experience, you're often left with an image that looks very unnatural.
This is what I found when using HDR Camera as well. To begin with, the app is only using a single image (while this single-image method can be done with desktop HDR editing as well, it's not the preferred choice). After you select the image, you can choose one of eight filters to be applied. Depending on the combination of image and filter you chose, the end result may be subtle, or it may be way too much.
More often than not, I found the results from HDR Camera to be far too extreme. There are no adjustment settings available—only a choice of filters. While you may be able to play around with various filters on each photo until you find one you're happy with, I didn't find the process worth it.
If you're a fan of HDR photography and are willing to spend some time tinkering, you may end up with a satisfactory result. For everyone else, there are plenty of options to improve your iPhone photos without going down the HDR path.
[Macworld contributor Beau Colburn lives in Boston where he enjoys taking photos of Fenway Park as often as possible.]