For years, consumers have turned to the familiar red covers of the Zagat family of books for honest, practical reviews of local restaurants, nightlife hot spots, shops and hotels. Zagat To Go '09 for the iPhone updates the familiar Zagat reviews for the iPhone generation. You'll feel like a local with trustworthy reviews at the ready in your pocket.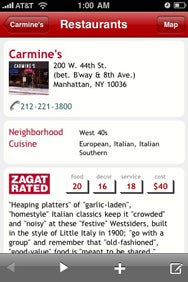 The reviews in Zagat To Go '09 are familiar to anyone that has opened a Zagat review book. Reviews feature the famous Zagat 30 point rating system and a paragraph description of the establishment that often includes several short quotes in an easy-to-read style. Most reviews also include a phone number, street address, hours and the names of all lists ("Best Buys" or "Outdoor Dining" for example) upon which the establishment appears in the directory.
Developed by Handmark, Zagat To Go '09 includes reviews of restaurants, hotels, and more for most major metropolitan areas and even some "getaway" destinations like Martha's Vineyard and Palm Beach. A full list of included metropolitan and getaway areas may be found on the Zagat Website or on the Zagat To Go '09 page at the iTunes app store. Note that the cost of a paperback guide for just one city exceeds the $10 cost of the multi-city iPhone guide.
Let's say you're traveling up the East Coast this fall with stops in New York City; Mystic, Conn., and Boston. You've done a bit of preliminary research on restaurants in each area but are still unsure where you want to go until you get there. As you leave, you install Zagat To Go '09 on your iPhone. One of the best features about the app is how it uses your iPhone's location awareness feature. You can access reviews for eateries in your current location or some faraway location with a simple tap of a button on an options screen. As you grow closer to New York, you can read reviews on restaurants and shops in each neighborhood in the Big Apple. If you want to change the location to Mystic for a quick peek at restaurants along the Connecticut shoreline, you can do that, too.
To increase or decrease the number of reviews you see, you can change the "radius" from 1/2 of a mile to 50 miles from your current location. You can also filter reviews by a number of different criteria including food, decor and cost for restaurants and rooms, service and facilities for hotels. You can also filter reviews with keyword searches, type of establishment or by overall rating.
Zagat To Go '09 is a must-own application for any traveler or anyone interested in finding the top rated restaurants and shops in their area or any area. If you're looking for a great out of the way place or the hottest new spot in town, Zagat To Go '09 makes finding that information both easy and enjoyable.
[Brendan Wilhide is a frequent contributor to Macworld. He covers athletes and the sports industry on Twitter at Sportsin140.com.]