The very idea of Photoshop on the iPhone seems almost too high concept. However, considering that the iPhone already hosts an impressive array of image editors—used to quickly fix pictures taken with its low-resolution camera for e-mail or upload to social networking or photo Web sites—news of competition from the sovereign of image editors can't help but raise expectations. The good part about Adobe's new Photoshop.com Mobile app is that it's free, easy, intuitive, fast, fun, and does what it says it will do. The bad part is that it doesn't do that much.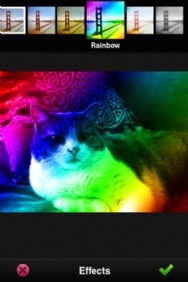 The interface is simple enough to master the first time you use the app. You can elect to show tool tips with instructions, but after a couple of minutes, you won't need them. The first tap gets you to the Edit screen where you can select a photo from your camera roll or shoot a new one. At the bottom of the screen, you can choose from three other screens: Online, which goes to your Photoshop.com account; Upload, which lets you automatically send an image to this account complete with a caption; and Settings, which lets you control whether or not to show tool tips, reveals your Adobe ID, and lets you sign in or out.
The real value of any image-editing app is what it does and how well it works. Photoshop.com Mobile has a very basic feature set—maybe a little too basic. When you select a photo, you have some initial choices. You can crop, rotate, or flip; change the exposure, saturation, tint, or convert a color picture to black and white; turn a photo into a sketch or soften the focus; and add effects, such as Vibrant, Pop, Vignette Blur, Rainbow, Border, Warm Vintage, White Glow, and Soft Black and White. Most edits are achieved with a swipe of the finger in either portrait or landscape mode. And you can adjust the strength of the edits (measured in numbers rather than by a slider) by how far across the screen you swipe. The effects cannot be tweaked. You can always change your mind about an edit and cancel or undo it, and the edited image is always saved separately from the original, so the process is inherently non-destructive.
I found working with pictures a lot of fun and a little addictive. But the basic level of the app and its lack of features soon got frustrating. Most pictures from a digital camera, especially one that's three megapixels in resolution, will need of some sharpening. But surprisingly, Photoshop.com Mobile has no sharpen functionality. I was also surprised that there was no way to zoom in and out of an image with the iPhone's finger gestures. Despite the interoperability of Photoshop.com with Facebook, Flickr, Photobucket, and Picasa via its Web site account—the same one you send your photos to from this app—you can't automatically share photos with those sites via Photoshop Mobile. And the phone-based slideshow of the photos you do have online appear without their captions.
Adobe acknowledges these issues and says that sharpening and additional exposure tools are planned for the next release, while direct phone-based sharing with photo and social networking sites, and other improvements, are under consideration.
Photoshop.com Mobile is handy, easy to use, and its results were predictable. It offers some tasteful effects, and was swift to respond on my iPhone 3GS. For a free app, there's no problem with Photoshop.com Mobile, and Adobe says it intends to keep the app free for the immediate future. However, I think that people would be willing to pay a small amount to get the superior features that the Photoshop name and reputation implies.
[Jackie Dove is a senior editor for Macworld.]