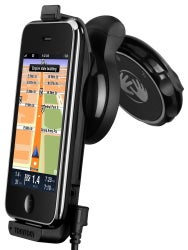 If you've been sitting on the edge of your bucket seat since TomTom announced it would be releasing a car kit for its iPhone GPS app then lean back and relax, for that time is now. The company's Car Kit for iPhone is now available in the online Apple Store.
Granted, it's still taking two or three weeks to ship, so if you're looking for instant gratification, you're out of luck. As a refresher, besides conveniently mounting your iPhone on your windshield via a suction cup, the Car Kit also enhances the GPS functionality of the iPhone and provides a built-in speaker that makes the voice prompts easy to hear and allows for hands-free calling. And it can charge your iPhone too, so you'll never run out of power while you're on the go.
As previously discussed, the car kit costs $120 and has to be bought in addition to the TomTom GPS application, which costs $100 on its own (shipping, however, is free). Cheap? No, but that really depends on what premium you place on consolidating a GPS unit with your iPhone.