The Iconfactory released the fast-paced $2 iPhone game Pickin' Time on Monday. The game features both single-player and multi-player modes, both of which test your pattern-matching skills and your reflexes.
The premise of Pickin' Time, which I've been beta-testing for more than a month, is extremely simple: You need to spot and tap on a particular vegetable every time you see it on the iPhone's screen.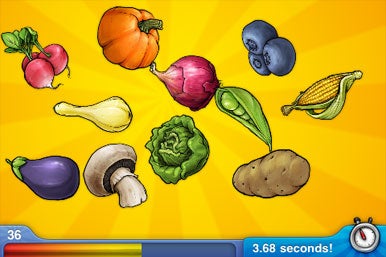 Pickin Time's single-player mode assigns you a particular vegetable and then shows you a succession of screens filled with an assortment of items. Once you pick out your item and tap, a new screen appears, with all the items redistributed across the screen. As the game progresses, the items get smaller and there are more of them. Just to make it harder on your brain, items not only change orientation, but they actually rotate on screen. The background color also changes. The result is a combination fast-twitch experience and a real warm-up for your brain's visual centers.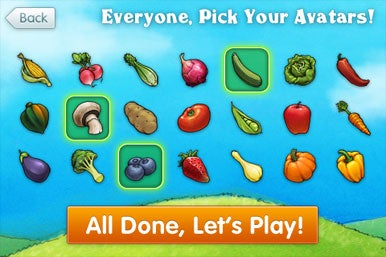 The game features two multi-player modes. In the first mode, several players gather around a single iPhone or iPod touch placed on a flat surface within reach of every player. Each player chooses a vegetable icon, and then the game begins to show a sequence of screens, each featuring a single vegetable. The person who chose that icon has to tap it as quickly as possible.
The result is a hilarious party game that had a bunch of us laughing hysterically when we played it at the C4 developer conference last month. In this mode, the slowest-reacting player is eliminated each round until there's a winner.
In the game's other multi-player mode, multiple iPhones connect to a Wi-Fi network and play the same multi-player game, but with each user having a screen to tap on.
Pickin' Time marks the third iPhone game from the Iconfactory, with previously released the excellent Frenzic puzzle game and the beautifully realized Skee-Ball-style game Ramp Champ. The company has posted a video of Pickin' Time in action.