Castle defense games have become a mainstay on the iPhone platform, as the genre seems to improve with each new release. Brisk Mobile hopes that trend continues with Medieval, an app on sale for $1 as of this writing that delivers both impressive graphics and addictive gameplay.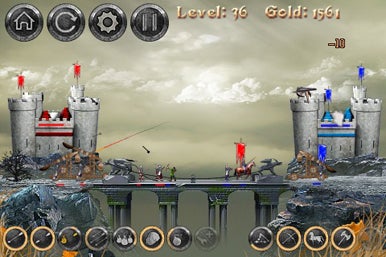 Medieval centers around an ongoing war between two rival empires, each seeking to destroy the other in a race toward dominance. Each side of the waring factions have their own castles—yours on the left and theirs on the right. (You can reverse the settings in the options menu for left-handed play). To defeat your enemy, you can either reduce its castle to rubble, pummel the opposing forces until they run out of resources, or have your troops steal a flag.
At the start of the game, your only line of defense is a crossbow on top of your castle. Fortunately, you also start out with a little gold, which lets you buy upgrades. Each enemy you kill adds to your gold stash.
Medieval has a wide array of options when it comes to upgrades—flaming arrows, catapults, bombs, and horsemen are just some of the items you can buy. With so many options, you can tailor your forces to suit your personal style of warfare.
The enemy seems to have a nearly unlimited supply of gold, as it constantly sends archers, cavalry, catapults and every thing else under the sun at you. Managing your resources and wisely deciding which upgrades to purchase is the only way to survive.
With beautiful landscapes and detailed castles, Medieval's graphics are superb. Adding to the visual feast are nice animations—clouds slowly roll by and waterfalls pour over cliffs. There are also some realistic sound effects as well, like the crackling fire from flaming arrows, boulders smashing into the castles, and the death cries of slain foes.
Medieval has a clean interface and simple controls. To shoot your crossbow, you pull back, aim and release. There are three different shooting modes to choose from—Show Arc, which shows a projected line of fire; Auto Fire, which automatically fires wherever you tap on the screen; and Drag Fire, which offers no help in aiming. Show Arc and Drag Fire have gold bonuses of +10-percent and +20-percent, respectively. All of the upgrades you've purchased are represented by buttons along the bottom of the screen you tap to activate.
Medieval is fun and challenging game, and I've had a hard time putting it down. Between the great graphics, realistic sounds, and addictive gameplay, you quickly find yourself fully immersed in the world of Medieval as hours slide by.
[Tim Mercer is a technology enthusiast, graphic designer, and blogger, whose blog, digital-artist-toolbox.com, offers free resources to the digital artist and graphic designer.]