Reader Tim Phillips faces a common upgrade dilemma. He writes:
Is it possible to upgrade a MacBook Pro hard drive without having to reinstall all the applications I have on my current hard drive?
Sure. What confuses most people about this is the fact that in one hand you have a laptop, complete with drive, and, in the other, a raw drive with seemingly no way to move data to it without jacking it into the laptop.
The solution is to simply provide the missing piece—the means for moving data from the laptop to the raw drive. For these sorts of situations I rely on Newer Technology's $35 USB 2.0 Universal Drive Adapter. Compatible with ATA and SATA drives, you just plug one end of the adapter into the raw hard drive and the other into the MacBook Pro's USB port.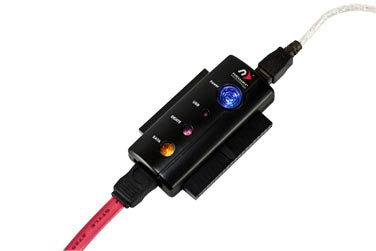 Alternatively, you can purchase a cheap drive enclosure and fling the drive into it. (The advantage of the enclosure is that you can put your old hard drive into it and use it for other purposes.) At that point you can use a tool such as Bombich Software's Carbon Copy Cloner to clone the current drive to the one you'll replace it with.
When the job is done, open the laptop and… what, you say you're not sure how to do that? iFixit, in addition to ripping apart every bit of cool technology that crosses its desk, provides solid instructions for upgrading Macs and other gear. If you prefer video, check out Other World Computing's Install Videos page.