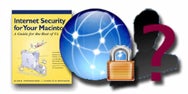 Open Door Networks updated its DoorStop X Security Suite, adding compatibility with Mac OS X 10.6 along with other enhancements to its collection of security tools.
That DoorStop X suite consists of the DoorStopX Firewall (which replaces the one built into OS X), the Who's There? Firewall Advisor (which provides information about attempted attacks), and an e-book explaining Mac security issues.
Read Macworld's review of DoorStop X Security Suite 2.0
In the just-released version 2.3 of the suite, both the firewall and the firewall advisor are now compatible with Snow Leopard. The firewall also includes a new read-only mode for non-admin users; they can see firewall settings, but not change them. Who's There? includes an improved geo-location service, so you can pinpoint attackers' locations on a world map. The suite's News menu has also been updated; it now lets users access an Open Door Twitter stream and security blog, to stay current on Mac security issues.
The new version of the suite's e-book contains updated information on Snow Leopard's security improvements (such as its "sand-boxing" of applications). It also adds information about iPhone security. Open Door President Allan Oppenheimer says the smartphone has security issues of its own (such as the SMS vulnerabilities discovered last summer), as well as many of the same problems (phishing, Wi-Fi attacks, physical security) that can plague the Mac.
The full suite costs $79; the firewall alone is $49, Who's There? Firewall Advisor is $39, and the e-book on its own costs $10. Those products, as well as free 30-day evaluation versions, can ordered from Open Door's Web site.