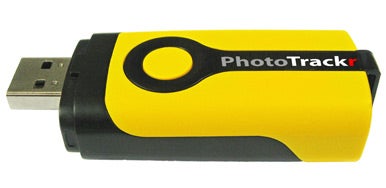 GiSTEQ is releasing a new version of their PhotoTracker GPS device, which adds geotagging information to digital photos. The $69 PhotoTrackr Mini DPL900 is smaller and less expensive than previous versions, and it has been redesigned to look more like a typical USB thumb drive. Most importantly, it has increased Mac compatibility and added RAW file support.
The PhotoTrackr system works by logging your GPS location and the time on the pocket-sized USB device. You then upload that information to your computer using the free PhotoTrackr software. When you import photos from your camera, PhotoTrackr assigns a location to each image by matching up the time stamp of the image file with the PhotoTrackr logs. The GPS information can be embedded into a photograph's EXIF tag for exporting and use with other programs. The PhotoTrackr software can also export GPS log files in a Google Earth compatible format.
The Mini has 2MB of flash memory, half as much as the larger PhotoTrackr devices, and the built-in rechargeable Li-ion battery can power the device for up to 18 hours. GiSTEQ is accepting pre-orders for the PhotoTrackr Mini now and will begin shipping units in November. It costs $69 and there are no monthly fees.