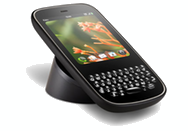 Editor's Note: The following article is reprinted from Network World.
Sprint will release the second Palm webOS device, the Palm Pixi smartphone, on Nov. 15, priced at $100, after $150 in rebates.
The Pixi, unveiled in September, will be available with a two-year cellular contract. Sprint is offering a $50 "instant rebate" at the cash register, with a separate $100 mail-in rebate. The Pixi will be available at the carrier's Website and retail stores, and also at Best Buy, RadioShack, and some Wal-Mart stores.
The Pixi offers a full, exposed QWERTY keyboard, and a multi-touch screen that is smaller than the one featured on its sibling, the Palm Pre, whose keyboard slides out vertically. The 3G phone lacks GPS and Wi-Fi, both of which are featured in the higher-end Pre.
Both phones run Palm's webOS system software, which has gotten good reviews from early adopters. It marries a Linux kernel with the WebKit JavaScript and rendering engines. The combination lets Web developers use HTML, CSS, and JavaScript to create applications that install and run natively on Palm smartphones.
The gesture-designed UI is built around the metaphor of a deck of playing cards, letting users shuffle applications onscreen and navigate between them. Like the Pre, Pixi uses Palm Synergy to create a single view of the users's information on Google, Facebook, and via Microsoft Exchange ActiveSync with Microsoft Exchange servers.
The result is a combined contacts list, different calendars that can be viewed separately or merged, and a messaging interface that brings together different e-mail systems, MMS and IM threads.
In addition, Pixi will add an integrated link to Yahoo, and to a user's account on Facebook.
Sprint is promoting two main plans for the Pixi, and pitching them as much less costly then comparable AT&T plans for the Apple iPhone.