How many of your photographs are you not enjoying because they are lost in dust-covered shoe boxes under the bed? Trapped in those cardboard containers are snapshots from family reunions, birthday parties, weddings, vacations, and, sometimes most importantly, the simple moments in life. They might be stored away but that doesn't mean they're not deteriorating–colors can fade and shift over time.
The good news is that scanning can help rescue and revive those treasures from the days of analog. The bad news is that digitizing those old photographs yourself can be a formidable task. Scanning and retouching each photo, slide, or negative would take an untold amount of your time and energy. Thankfully, there are now professional scanning services that will do all the tedious work for you. I tested three different scanning services to see how they stacked up.
The test subjects
I placed orders with these three scanning companies: ScanDigital.com, DigMyPics.com, and ScanCafe.com. All three services have similar approaches to customer service, and each successfully completed the orders I placed, delivering scans and returning the original materials to me in good condition. However, the services did have varying strengths and weaknesses in the following areas: placing the order, ongoing communication, turnaround time, scan and retouching quality, after-order support, and pricing.
For each service tested, I prepared a package that contained 15 images covering the three main kinds of standard color media: five 35mm slides, five 4-by-6-inch prints, and five 35mm negatives. Test packages are a good way to go when considering a new scanning service. The financial investment is relatively low, and you can minimize your risk by sending images that you have duplicates of. If everything goes well, then you can send off larger quantities with some assurance of a positive experience.
To judge product quality, I ordered the highest resolution scan each service offered. The test files were opened directly from the shipped DVD into Adobe Photoshop CS4. I printed images on 13-by-19-inch paper from a Hewlett-Packard Photosmart Pro B8850 printer. The resolution was set for 300 pixels per inch (ppi), which yielded an image size of 17.8 by 12 inches. No image adjustments were applied. In the print dialog box, I let the printer manage the colors. I used original HP ink and HP glossy paper.
Organizing and packaging photos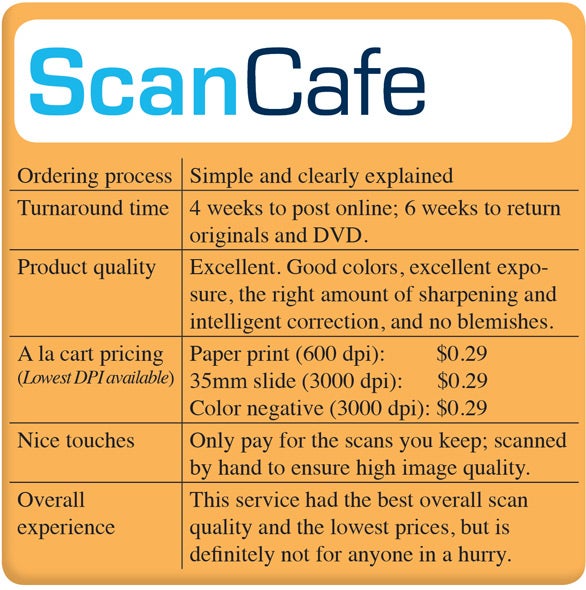 The first step in outsourcing your scanning is to gather all of the pictures you want to preserve. They may be stashed away in different areas of the house, storage spaces, or in the hands of friends or relatives. You don't need to limit your collection to standard-size prints, slides, and negatives. Most scanning services will also accept less-common media, including APS film, medium and large format prints and slides, transparencies, scrapbook pages, and disk negatives. Each company provides a list of their accepted formats online.
For the most part the sites recommend sorting your images by keeping prints, slides, and negatives bundled with like kind. In other words, don't toss a mix of media into a box and expect the service to sort it out for you. If your prints are in albums or slides in carousels and you don't want to take them out, that's OK. For a slight surcharge, the scanning company can remove, scan, and return your prints and slides to their rightful place.
The better you label your materials, the quicker the company can process them. I put negatives and slides in Print File sleeves to protect them and included my name on each sleeve. I put prints together in a manila envelope with my name on it. (Some companies request that you put your slides in boxes instead of sleeves.) If you want your images to be separated into groups, divide and label each batch clearly. The final scans will be sorted and named accordingly.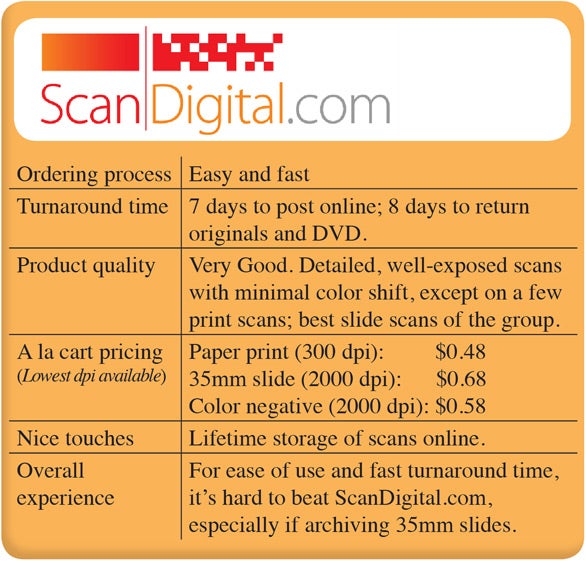 Finally, I put the envelopes and sleeves into a sturdy box and mailed it off. My materials from each service were all returned to me in my original packaging, and they were in good shape.
Placing the order
Placing your order online with a scanning service is a fairly straightforward process. Typically, you create an account and then let the service know a little bit about the type of media you want scanned, how many items of each type will be in the order, the resolution at which you want them scanned, and the type of digital media you'd like in return.
You can have your scanned photos burned on a CD or DVD, stored online, or saved on an external hard drive. I like to get my images on DVD and have the option to download them online too. The DVD serves as a nice archive, and it will play on all of my Macs. The online files are convenient for quick downloading.
Of the services I tested, ScanDigital had the easiest ordering process. I was presented with a short series of decisions that were easy to understand, such as the pricing plan, shipping method, and digital format for final scans. The easiest way to ship materials with ScanDigital is via UPS. There is a $10 upfront charge for two-way shipping, and once you pay it, you can print out a UPS shipping label.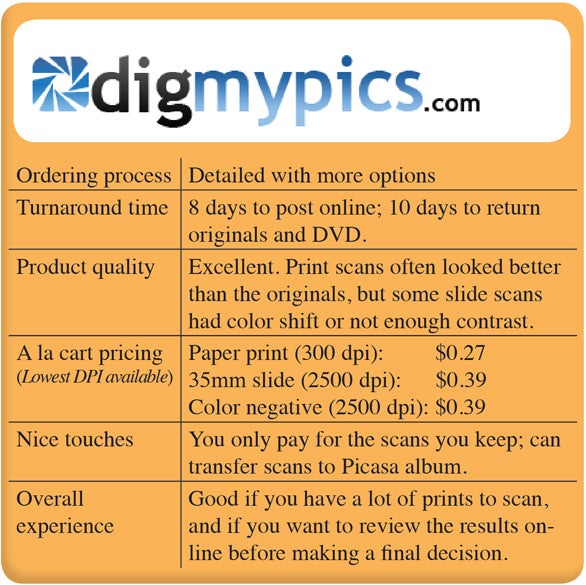 The online order form was slightly more intimidating with DigMyPics. I had more decisions to make about the digitizing process with this service. This isn't necessarily a bad thing, but DigMyPics does seem more geared toward photographers who have specific preferences about scanning resolution, while ScanDigital didn't require much upfront knowledge about the scanning process.
Ordering from ScanCafe was more like ordering from ScanDigital–clear and straightforward. All three sites have a terrific How It Works page that includes information about the scanning process, tips on how to pack your shipment, and answers to FAQs.
Of the three, ScanDigital and ScanCafe have a slight edge for ease of ordering.
Tracking the process
A little assurance goes a long way when shipping off your one-of-a-kind images to an online service. Both ScanDigital and DigMyPics send e-mail notices during every step in the process: when you register, when the service receives the package, after the images have been scanned, and when the order has been shipped back to you. ScanCafe also did a good job communicating, but took a bit longer to acknowledge receiving my shipment. That being said, all three services receive high marks in customer communication.
E-mail messages aren't the only way to keep track of your order. Many companies, including DigMyPics and ScanCafe, allow you to log in and see exactly where your images are in the scanning process. DigMyPics even shows you how many of your images have been scanned and any notes made by technicians.
Timing the order
Scanning companies are up front about how long the process will take. ScanDigital wins for efficiency. Seven days after shipping the photographs, ScanDigital sent an e-mail notice saying that the images were ready for viewing and downloading online. The DVD arrived the next day. DigMyPics had images ready for review in eight days. Once the scans were approved, the DVD took just a few days to arrive.
Things moved a bit slower for ScanCafe, however. Touting its "scan by hand" approach, it needed four weeks before the images were ready to see online. In part this could be because the photos are shipped off to ScanCafe's India plant for actual processing. So if you're in a hurry, ScanCafe isn't your best choice. ScanDigital and DigMyPics have facilities here in the United States.
Some services ask for approval of online images before they finish the job. Others post online as a convenience, but there is no approval process. Make sure you know your options, so your expectations are met.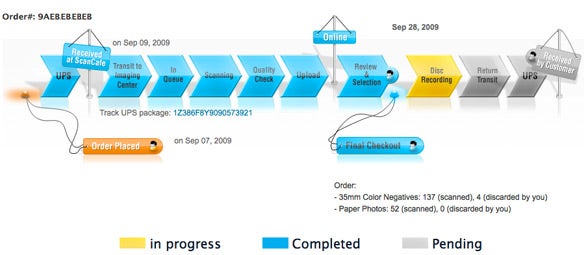 Checking scan quality
There might be something to ScanCafe's claim that it scans every image by hand, because the images they returned were the overall best of the three services. Good color, excellent exposure, the right amount of sharpening, intelligent correction, and no blemishes.
The quality difference between ScanCafe and runner-up ScanDigital was often negligible, running neck and neck on many of the images. DigMyPics was in the running most of the time except with 35mm slides, where it was usually a distant third. All three services use Nikon Super Coolscans for their negative and slide scanning. ScanCafe and ScanDigital images were scanned with the 5000 ED model, and DigMyPics uses the 9000 ED model.
Following up online
Ongoing Web support is quite strong with ScanDigital. Once you log in, you can see the details for all of your orders and view all of the images the service has scanned. In the My Gallery section, you can view your photos and download the high-resolution scans. I particularly liked having the ability to download an entire batch at once instead of grabbing each image individually. And ScanDigital stores your images online indefinitely for no additional charge.
DigMyPics retained low-resolution versions of my scanned order on its Website, but it did not store the high-resolution pictures for free as ScanDigital does. You are given the opportunity when your order is completed to transfer the high-resolution shots to a Google Picasa online album, which I did. Picasa provides you with 1GB of free storage. You can purchase an additional 10GB of photo storage for $20 a year from Picasa, or pay an annual subscription service with DigMyPics for $25.
ScanCafe provides online low-resolution viewing of your scans and your past order information, but it does not store your high-resolution scans for you either. In terms of user experience after the job is completed, ScanDigital wins hands down.
Paying the bill
Standard pricing for online scanning services is usually based on a per-image cost. It varies depending on the type of media, the service you choose, whether you opt for a package, and any extras you add on, such as album scanning or advanced retouching.
ScanCafe requires only that you estimate how many images you're sending in, and then you pay for half that number of scans up front. When your images are put online, you can decide which images to approve and which to reject (up to 50 percent of the scanned pictures). You pay only for the scans you keep.
DigMyPics also allows you to review your scans online before making a final decision as to which ones to purchase; however, on small orders the savings is minimal. I opted out of two 35mm scans and saved only 75 cents. But savings increase with larger orders.
For ScanDigital I opted for the Standard Pricing option, which bases the cost on the count of the materials you ship. You pay to have everything in your shipment scanned. So when ScanDigital posts your gallery online, the work is done.
As noted earlier, the same order was sent to all three services: five 35mm slides, five color negatives, and five 4-by-6-inch prints. The charges for scanning were as follows (including shipping): ScanCafe was $19.23; ScanDigital was $21.70; and DigMyPics was $29.10.
Picking the right service
For ease of use and fast turnaround time, it's hard to beat ScanDigital.com, especially if you're archiving 35mm slides. They communicate well, provide free online storage of your images, and generally produce good output results. DigMyPics is also a strong contender, especially if you have lots of prints to scan, and you want to review the results online before making a final decision. But if you want the best scans and are willing to wait for them, then ScanCafe is my recommended choice.
You may even be lucky enough to have a local scanning service that you can work with face to face. That would certainly simplify using an outside vendor and help easy any anxiety you have about sending off one-of-a-kind photographs. So be sure to also look around locally when contemplating options.
[Senior Contributor and professional photographer Derrick Story teaches iPhoto on Lynda.com and runs a virtual camera club at The Digital Story.]