Roku's Netflix Player ( ) arrived in mid-2008 as a compelling addition to any Netflix subscriber's life: it was a $100 box that put the movies and TV shows that are available for free via Netflix's Watch Instantly service right on your TV set.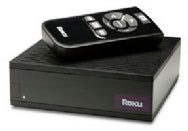 In the intervening year and half, Roku's box has learned a few new tricks, including support for Amazon Video on Demand and MLB.tv, with more on the way. Roku says the "Roku Channel Store" is forthcoming, which will let users of the box choose from "a number of new content channels for the Roku player" in the forthcoming weeks.
With all that happening, it's not really right to call the device the Roku Netflix Player anymore. So now it's got a different name—and has been split into three different versions.
The original $100 player is now dubbed the Roku HD player, and features support for Wi-Fi B and G networking (as well as Ethernet), and supports HDTVs via included HDMI and component outputs. But now Roku has added the $80 Roku player, a stripped-down version of the Roku HD player that supports only standard-definition video via a composite video output.
At the high end is the new $130 Roku HD-XR player, which features all the characteristics of the Roku HD player, plus Wi-Fi N networking and a USB port that Roku says is "for future use." Presumably the company intends on playing back video from external storage devices, but it was mum on the matter.
All three models look exactly the same on the outside: they're largely featureless black plastic boxes, much smaller than any other device in my home-TV arsenal. There's no onboard hard drive of any kind—these devices are built to stream video over a network, not store files locally.
Setting the boxes up is quite easy. After I plugged one into my TV and a power outlet, I was able to select my home Wi-Fi network and enter in the password. As soon as the device confirmed that it was connected to the Internet, it displayed an activation code on my TV screen and prompted me to go to Netflix's Website and enter the code. When I did that, the box immediately downloaded a list of all the movies in my Netflix queue that were available to Watch Instantly. Pairing the box with my Amazon.com account followed a similar procedure.
The major drawback of Roku's Netflix interface is that it currently displays only the items that are in your Netflix Watch Instantly queue. There's no way to browse other content, such as recently added items or top-rated selections, which puts Roku a step behind the Netflix interfaces available on many Blu-ray players.
I'm still quite happy with the Roku HD player I purchased last year, and consider it well worth the $100 investment, and the new services being added by Roku just keep increasing its value. But until the Roku HD-XR Player makes use of that USB port or adds support for over-the-air streaming of other content on your home network, its added $30 price tag isn't worth it. Here's hoping that Roku makes that USB port worth the extra money in the weeks to come.