At a Glance
Expert's Rating
Pros
Unibody design makes a lighter, more comfortable MacBook
Impressive battery life
Glass Multi-touch trackpad
Support for up to 8GB of 1066MHz RAM
Performs as well or better than 2.26GHz 13-inch MacBook Pro
Cons
No IR port
No SD card slot
No video adapters included
No FireWire port
Our Verdict
The MacBook benefits nicely from its unibody face-lift: it's lighter and more attractive, and it performs better than the model that came before it. Think of it as a MacBook Pro minus the FireWire port and SD card slot, for $200 less.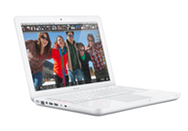 In just three and a half years, the MacBook, targeted at average computer users, students, and PC switchers, has become Apple's best-selling Mac model. In its first major remodeling since 2006, the polycarbonate MacBook has gained many of the marquee features of the 13-inch MacBook Pro ( ), including a unibody design, a glass trackpad, and an LED-backlit display.
New design
In many ways, the white MacBook was the lone holdout among Apple portables. As the least-expensive model, it was missing several of the new design features that had already been made standard across the rest of the laptop line. One of the big ones was unibody construction. Making the MacBook's main case out of a single piece of polycarbonate plastic (aluminum on all other Apple models) results in fewer parts, fewer screws, a lighter weight, and better durability. In switching to a unibody design, the new MacBook sheds the grayish surface that appeared grafted atop the frame in the previous model ( ). The result is a consistent white color, and a smoother surface without the sharp edges of the earlier generation. The keyboard also feels more solid and consistent.
Instead of nonskid pads in the corners on the bottom of the MacBook, the entire surface is one giant rubberized foot secured by eight Phillips screws. This surface is smoother and doesn't provide as much friction as the pads on the older MacBooks did, and it collected a fair amount of dirt and debris from my desk (although a quick rub got it looking good as new).
Another problem with the unibody design is that it requires that the battery be built in. As with Apple's other unibody laptops, the battery is not user-replaceable, but Apple says that the battery gives you between three and a half and seven hours of juice and up to 1000 charge cycles before being reduced to 80 percent capacity. Apple says that the battery should take about five years to reach that point, but your mileage will vary. The company charges $129 to replace the battery—the same price you'd pay for an extra battery for an older MacBook—which can be done as a same-day service in an Apple Store (or whatever they're called in 2014). It is still pretty easy, however, to access the hard drive and RAM slots for quick upgrades or replacements in those areas.
Integrating the battery into the design allows for a larger (and therefore longer-lasting) battery, plus it reduces some weight. In our battery test, the charge lasted for an impressive four hours and nine minutes while playing a looped video clip in QuickTime X at full screen and full brightness, but with AirPort turned off. That was exactly the same duration as the 13-inch 2.26GHz MacBook Pro, and 40 minutes longer than the previous MacBook. During that time (and during our other testing) the bottom of the MacBook never got very warm, which had been a complaint of some MacBook users in the past.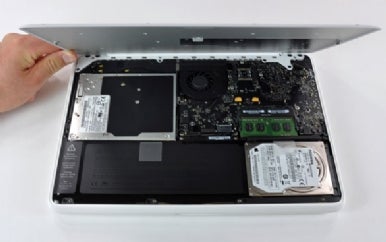 Also new is that the MacBook—like every other Mac laptop other than the Air—now has a glass Multi-Touch trackpad with gesture support. It's larger than the combined pad-and-button area on the old model. After using the new MacBook for a while, I've found the smooth, large trackpad more enjoyable than the one on my earlier-generation MacBook. It takes some getting used to if you've been using the previous design, but the change is a good one.
The 13.3-inch display offers the same 1280-by-800-pixel resolution as before, but as with all other Mac portables, the new MacBook uses LED backlighting on its display instead of CCFL (cold cathode fluorescent lamps). The display is noticeably brighter than before, and the switch to LED lets Apple finally add the MacBook to its list of arsenic- and mercury-free laptop displays. Viewed side by side with the screen of the older MacBook, the new MacBook's screen shows a yellow color shift when changing your horizontal viewing angle (the previous model simply got more washed out). The 13-inch MacBook Pro suffers from the same color shifting.
The back of the screen has a slight taper that gives it a thinner appearance than that on MacBooks of yore, and a narrow rubber bezel protects the screen from coming into contact with the keyboard when you close the lid.
Overall, the new MacBook is slightly wider and deeper than its predecessor, although it shaves 0.3 pounds from the total weight. That small difference in weight is actually quite noticeable for someone like me, who's been using the MacBook since it first came out. It is slightly larger in all dimensions than the 13-inch MacBook Pro, and weighs 0.2 pounds more than its aluminum counterpart.
Ports and more
The new MacBook has a round iSight lens with only a status light to its right—the microphone has moved to the upper left corner of the keyboard area. The power button in the upper right corner of the keyboard area is smaller than before, which makes it a little harder to press.
On the front edge, the sleep status indicator is longer and narrower than before, but conspicuously absent is the infrared (IR) port that used to sit to the right of it. Without an IR port, you can't use the new Apple Remote (or the older remote, for that matter) to control Front Row, volume, and the like. You can, however, use an iPhone or iPod touch with a remote app over Wi-Fi.
Speaking of ports, there are also some changes to the array of ports on the side of the MacBook. The biggest change is that there's no longer a FireWire port on the MacBook—until now, it was a staple on all polycarbonate MacBooks. If you need a FireWire port—for connecting a camcorder or for using FireWire Target Disk Mode, for example—the MacBook isn't for you. For $200 more, a 13-inch MacBook Pro with the same processor gives you a FireWire 800 port, plus an SD card slot and an aluminum enclosure (although that model includes a 160GB hard drive versus the 250GB drive in the MacBook).
The display connection is now Mini DisplayPort (previously there was a mini-DVI connector), and Apple is using a single audio port for analog/digital output as well as line-in. The Sound preference pane has a Use Audio Port For pop-up menu, from which you can choose either Sound Output or Sound Input. The sound port also supports the Apple Stereo Headset with microphone. The other ports are gigabit ethernet, MagSafe power, two USB 2.0, and a Kensington lock slot. As before, the other side features an 8X slot-loading double-layer SuperDrive.
On the inside
The latest MacBook stills uses an Intel Core 2 Duo processor, but the speed of it has bumped from 2.13GHz to 2.26GHz. The new MacBook, like its predecessor, has 3MB of shared L2 cache. And although the MacBook maintains the same 1066MHz frontside bus as before, the new model supports 1066MHz DDR3 RAM as opposed to 800MHz DDR2 RAM.
The MacBook ships with 2GB, and Apple will double it to 4GB for an extra $100. Apple officially lists the maximum RAM at 4GB, but since it uses the same chipset and components as the 13-inch MacBook Pro, it does support up to 8GB as well. Of course, 4GB SO-DIMM RAM modules are still very expensive. OWC offers an 8GB upgrade kit for $476, for example, but as prices drop in the next year or two, having that 8GB ceiling as an upgrade option will be a good thing. (Apple doesn't offer an 8GB option for the MacBook, and currently charges $700 to upgrade the MacBook Pro from 2GB to 8GB.)
Graphicswise, the new MacBook uses the same Nvidia GeForce 9400M graphics processor, which shares 256MB of RAM with the main memory, as both the previous version and the 13-inch and low-end 15-inch MacBook Pros. In our Call of Duty test, the new MacBook produced almost one frame per second more than before, but a full frame per second less than the 13-inch MacBook Pro with the same specs. The MacBook still lets you mirror or extend your desktop to a second display at up to 2560 by 1600 resolution at millions of colors. You won't find any of the Mini DisplayPort adapters needed to connect to an external display, however, in the box. All are separate accessories from Apple. The MacBook also retains its 802.11n and Bluetooth 2.1 wireless networking.
Performance
To gauge the new MacBook's speed, Macworld Lab ran our full suite of benchmarks. The new MacBook's slightly faster processor speed and improved RAM speed make this MacBook a little bit faster than its predecessor, as you might expect. Improvements ranged from 5.5 percent faster for an iTunes MP3 encoding test to 17 percent faster for an Aperture import test. The new MacBook shaved seven seconds off the Photoshop CS4 test suite (12.5 percent), 13 seconds off our iMovie archive import test (10.4 percent), and nine seconds off our unzip archive Finder test (11 percent).
The new MacBook also matched or bested the 2.26GHz 13-inch MacBook Pro in almost all of our tests—somewhat surprising considering the two systems have almost identical components (although it's possible that the MacBook Pro's smaller hard drive was a factor, or that we have a test system with a somewhat wonky hard drive). The MacBook blew the latest MacBook Air out of the water in all tests except our Finder folder duplication (only one second faster) and unzip archive (16 seconds slower) tests.
New 2.26GHz Core 2 Duo MacBook benchmarks
| | | | | | | | | | | | | | | | | |
| --- | --- | --- | --- | --- | --- | --- | --- | --- | --- | --- | --- | --- | --- | --- | --- | --- |
| | Adobe Photoshop CS4 | Cinebench | Mathematica Mark 7 | Compressor 3.0.4 | Aperture 2.1.4 | iMovie '09 | iMovie '09 | iTunes 9.0.1 | Call of Duty 4 | Finder | Finder | Finder | Parallels Desktop 4 | Handbrake 0.9.3 | iPhoto '09 | Pages '09 |
| | SUITE | RENDER | TEST | MPEG ENCODE | IMPORT | IMPORT ARCHIVE | EXPORT | MP3 ENCODE | FRAME RATE | DUPLICATE 1GB FOLDER | ZIP ARCHIVE | UNZIP ARCHIVE | WORLDBENCH 6 MULTI-TASK TEST | RIP DVD CHAPTER | IMPORT | OPEN WORD DOCUMENT |
| MacBook 2.26GHz Core 2 Duo | 0:49 | 3:03 | 3.21 | 10:45 | 3:36 | 1:52 | 2:13 | 1:43 | 17.2 | 0:36 | 4:14 | 1:12 | 7:17 | 3:06 | 0:56 | 2:04 |
| MacBook 2.13GHz Core 2 Duo | 0:56 | 3:18 | 2.94 | 11:36 | 4:21 | 2:05 | 2:34 | 1:49 | 16.3 | 0:43 | 4:36 | 1:21 | 7:52 | 3:28 | 0:57 | 2:15 |
| 13-inch MacBook Pro 2.26GHz Core 2 Duo (2GB) | 0:51 | 3:03 | 3.20 | 10:57 | 3:56 | 2:07 | 2:21 | 1:43 | 18.2 | 0:45 | 4:27 | 1:36 | 7:18 | 3:16 | 0:49 | 2:24 |
| 15-inch MacBook Pro 2.53GHz Core 2 Duo (4GB) | 0:47 | 2:45 | 3.45 | 10:02 | 3:17 | 1:48 | 2:12 | 1:31 | 18.5 | 0:34 | 3:54 | 1:11 | 6:32 | 3:11 | 0:53 | 1:55 |
| MacBook Air 2.13GHz Core 2 Duo | 1:21 | 5:42 | 1.51 | 21:31 | 5:36 | 3:14 | 3:49 | 2:56 | 11.5 | 0:35 | 5:10 | 0:56 | 13:41 | 5:02 | 1:21 | 2:44 |
| | | | | | | | | | | | | | | | | |
Best results in bold. For Call of Duty 4 and MathematicaMark 7, higher scores are better. All other tests are timed results where lower times are better. Reference systems in italics.
Macworld's buying advice
The MacBook benefits nicely from its unibody face-lift: it's lighter and more attractive, and it performs better than the model that came before it. You can think of it as a MacBook Pro minus the FireWire port and SD card slot, for $200 less. It performs very well and doesn't feel like an entry-level system. If you have only USB-based camcorders, hard drives, and peripherals, the missing FireWire port won't be an issue for you. However, if you're still using FireWire equipment and plan to use said equipment with your laptop, you should instead look at the MacBook Pro (an SD card slot is less of an issue, since you can just buy an inexpensive card reader).
[Jonathan Seff is a Macworld senior editor.]