When you're switching from a Windows PC to a Mac, there's one piece of good news: Most of the peripherals you used with your PC—including printers, digital cameras, networking equipment, external drives, and scanners—should work fine with your Mac. The best way to confirm that is to plug each piece of hardware into your new Mac, one at a time; if OS X doesn't automatically identify it and set it up, visit the manufacturer's Web site and look for a downloadable driver.
Sadly, Mac compatibility remains spotty in a few hardware categories, most notably MP3 players that aren't made by Apple (it's assumed that Mac users buy iPods) and cell phones. In some cases, third-party tools (such as Mark/Space's Missing Sync utilities) can help.
While most hardware peripherals can work with PCs and Macs equally well, software apps can (by definition) work with only one operating system. Unless you plan to spend all your time running Windows on your Mac (which would seem to be missing the point), you'll need to replace your Windows apps with Mac equivalents.
Many Windows programs have Mac versions. Unfortunately, in some cases those versions are entirely different from what you used on your PC. But not to fear: OS X apps—both Apple's own and those from third-party vendors—can be really impressive. Specifically, here are some of your options in the most important software categories:
Web browser Most leading Windows browsers—including Firefox, Opera, and Apple's own Safari—are available in essentially identical Mac versions: (The last one, naturally, comes bundled with every Mac.)
The one Windows browser you won't find on the Mac happens to be the one with the highest market share: Microsoft's Internet Explorer . If you've been using IE, give Safari or Firefox a try. You can use the free Xmarks plug-in to transfer your bookmarks from IE (or Firefox) on a PC to Safari or Firefox on your new Mac.
Office suite Office 2008, Microsoft's Mac suite, is very different from Office 2007 for Windows. It has fewer applications and fewer features overall, and its user interface only roughly approximates the Windows version's. (To be fair, Office 2008 also has some features that Office 2007 lacks.) The Home and Student edition is $150. Apple's own iWork '09—which bundles the Pages word processor, Numbers spreadsheet, and Keynote presentation package together for a reasonable $79—is slick but not as full-featured as Office.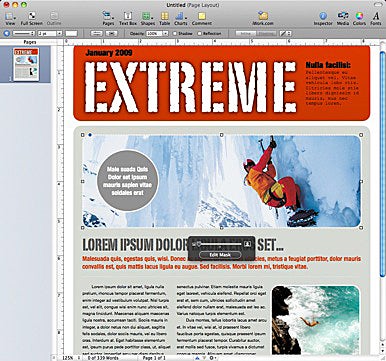 E-Mail and calendaring All Macs come with Apple's more-than-respectable Mail and iCal—and the new versions in Snow Leopard can connect to the Microsoft Exchange servers used by many businesses. That's good news, given that there's currently no version of Outlook for OS X—Microsoft plans to release one in 2010, but Office 2008 comes with a different, skimpier e-mail/calendar package called Entourage.
Personal finance On the Mac, finance mainstay Quicken is stuck on the antiquated 2007 version; it isn't even Intel-native. A new edition was originally due in 2008 but Intuit now says it will appear in February 2010. If you can't wait, check out Moneydance or Mint.com.
Creativity One of the best thing about Macs is that they each come with a copy of Apple's bountiful, innovative iLife suite of tools for editing and managing photos ( iPhoto), video ( iMovie), music ( Garageband), DVDs ( iDVD), and Web sites ( iWeb). Even if you've never used iLife, it'll probably feel familiar—many of its features have been adopted by Windows apps. Try iLife before you buy anything else; if you're not satisfied, you can always spring for meatier third-party alternatives such as Adobe's Photoshop Elements photo editor and Roxio's Toast Titanium for burning CDs and DVDs.
Security Chances are you've girded your Windows PC with anti-virus or anti-spyware tools, or a full-blown security suite. You could do the same on your Mac. But, given the extreme rarity of hacker attacks on Macs, you may not want to. See Macs: Safe and Secure?
Utilities OS X comes with Disk Utility, an essential tool for formatting, partitioning, and otherwise keeping your drives spinning; its Repair Disk Permissions feature can fix a remarkable percentage of otherwise mysterious Mac problems. Two solid third-party packages cater to hardcore utility fans who want more than Disk Utility can provide: TechTool Pro and Disk Warrior .