At a Glance
Expert's Rating
Pros
Superb low-light shots without flash
Vibrant colors in most shots
Cons
Sub-par flash exposure quality
Fisheye effect in wide-angle shots
Our Verdict
Fujifilm's FinePix F200 EXR is an good pocket camera for relatively advanced photographers, either as a more-portable backup to a digital SLR camera or as a versatile primary point-and-shoot. The basic specs are nice: You get a 5X optical zoom lens with wide-angle chops (28mm to 140mm), optical image stabilization, a bigger-than-most 12-megapixel sensor (1/1.6 inches), and ISO levels of up to 12800 at reduced resolution. But the biggest draw for photographers is the sensor itself.
The first Fujifilm camera equipped with the Super CCD EXR sensor (the second wave is coming soon), the FinePix F200 EXR offers some unique sensor-tweaking settings: You can shoot in resolution-priority mode for full detail; a high-ISO/low-light mode knocks down the resolution for less-noisy low-light images; and a dynamic-range mode is optimized for capturing even detail in shots containing both shadowy zones and well-lit areas.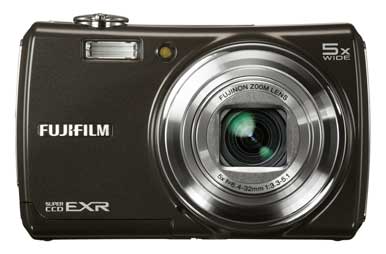 The FinePix F200 EXR definitely takes nice, colorful shots; but in my hands-on tests, there was no dramatic difference in the look of images taken in various EXR modes. Across the board, the camera errs on the side of vibrance: Macro shots of flowers or glowing neon signs are dramatically colorful, which makes for stunning shots in most conditions but may displease photographers who prefer a more natural look. I also noticed distortion to vertical lines in wide-angle shots–a subtle but visible fish-eye effect.
I did most of my hands-on test shots in broad daylight, under dark indoor lighting conditions, or in almost complete darkness; and EXR Auto mode was usually smart enough to pick the right settings. It performs especially well in low-light situations without the flash, creating bright colors and clearly defined subjects. A slight amount of noise begins to appear at ISO 800, but not near enough to ruin a shot.
On the other hand, the camera is a bit noisy mechanically: You can hear the FinePix F200 EXR whirring and clicking as it calculates optimal in-camera settings. The sound isn't loud enough to ruin a wedding photo shoot, but it might scare a skittish bug or a bird away when you're trying to take a macro shot. The zoom dial was a tad finicky and less than smooth; it tended to jump between zoom points rather than sliding smoothly and continuously between them.
Jury tests
| | |
| --- | --- |
| Image quality | Good |
| Color quality | Good |
| Flash quality | Good |
Scale = Superior, Very Good, Good, Fair, Poor
In our lab's jury evaluations, the FinePix F200 EXR achieved an overall score of Good, but with weaknesses noted in a couple of areas: Flash exposure is uneven (which isn't that big a deal, thanks to the camera's stellar low-light, no-flash picture quality), and it registered higher-than-normal levels of distortion in test shots. Key strengths: In well-lit settings without the flash, and in our color accuracy tests, the FinePix F200 EXR was among the best point-and-shoots we've seen this year.
Augmenting the usual host of scene selections (Portrait, Landscape, Sport, Fireworks, Sunset, and 12 others), the camera provides a few film-simulation modes, mimicking the look and feel of different Fujifilm brands (Astia, Provia, and Velvia).
One quibble about the settings: Though the camera's manual mode allows you to tweak shutter and aperture settings, you don't get full manual control over the aperture. Because manual mode defaults to shutter priority, you must select the aperture settings based on those compatible with your shutter speed. Manual shutter-speed selections range from 0.001 second to 8 seconds, and four aperture options are available: F3.3, F5.1, F9, and F14.
Despite the FinePix F200 EXR's array of extra features, its controls are straightforward and easy to use. The power button, shutter release, and zoom ring are located on the top of the camera. The main mode dial on the back of the unit offers access to eight shooting modes: Manual, Program, EXR controls, Auto Mode, Natural Light with flash, Natural Light without flash, Scene Modes, and Movie Mode (the camera shoots standard-definition 640-by-480 AVI files at 30 frames per second; you can't zoom while shooting videos). Below the mode dial are dedicated playback and setting buttons, a standard four-way directional pad for accessing and navigating menu settings (plus one-touch controls for EV settings, flash, macro mode, and the self-timer), a dedicated button for LCD display options, and a button to toggle face detection and red-eye reduction on or off.
A fairly sturdy plastic door on the side of the camera covers the A/V-out port—a proprietary connector on the camera's end, though the included cable offers both USB and A/V (but no HDMI) connectors. On the bottom of the camera, another sturdy plastic door covers the battery compartment, which doubles as a card slot that can handle SD/SDHC cards and xD cards.
The FinePix F200 EXR scored well in lab's battery evaluations, capturing 315 photos on a single charge of its lithium ion battery, enough for a battery life score of Very Good.
Specifications
| | |
| --- | --- |
| Resolution (in megapixels) | 12 |
| Optical zoom/focal length (35mm equivalent) | 5X/28mm-140mm |
| Battery type | rechargeable Lithium-ion |
| Media Slots | 1 (SD card) |
| Size (width x height x depth, in inches) | 3.8 x 2.3 x 0.9 |
| Weight (in ounces) | 6.8 |
Macworld's buying advice
Though the FinePix F200 EXR is a great little point-and-shoot, it has some surprising limitations. Low-light images are excellent without the flash, colors are vibrant, and the FinePix F200 EXR has some top-notch A.I.; but flash exposures are disappointing, and I had hoped for greater visible variation between the look and feel of its sensor-tweaking shooting modes. The F200 EXR is a very good camera, but I was expecting a bit more.
[Tim Moynihan is a senior editor for PC World.]