[Editors' note: We asked Harry McCracken, the former editor of PC World and the editor of the Technologizer blog, to write a guide to switching to the Mac from Windows. We hope that it's a good resource for anyone—including the friends and family of long-time Mac users—who are making the move from Windows to the Mac. McCracken is himself a semi-switcher—he uses both a MacBook Pro and a Windows netbook every day.]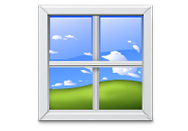 Remember the last time you moved? For all the promise that the move would make your life better, there was at least some short-term pain: boxes to pack and unpack, a new house or office to get used to, a new neighborhood to learn.
Moving from a Windows PC to a Mac—at the office or at home—presents the same kinds of opportunities and challenges. It requires some up-front effort: Transferring your data from your old machine to your new one, getting your hardware and software to run, and learning your way around OS X, the Mac's operating system. (For the purposes of this story, when I say "OS X," I mean OS X 10.6, also known as Snow Leopard.)
But the move doesn't have to be that hard. In the stories that follow, I've assembled a quick guide to making the switch as easy as possible. Don't worry: it doesn't have to be onerous or time-consuming. And the quicker you get it out of the way, the sooner you'll be able to get to work on your new Mac.
If you want to learn more, check out Macworld's Mac Basics Superguide; you can buy it in our Superguide store. The current edition of that guide is all about Leopard; we'll have another edition, updated for Snow Leopard, coming out later this year.