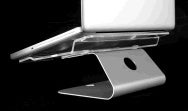 Mac accessory maker Macessity on Monday announced the TrayStation Cooler/Riser, a combination laptop stand and cooling tray.
Like traditional laptop stands, the TrayStation lifts your laptop to a more-ergonomic height (in this case, approximately six inches off the desk) when using the computer with an external keyboard and mouse. However, the TrayStation's clear-acrylic top surface separates from the steel base, allowing you to use the former as a low-profile cooling stand when the laptop is sitting directly on a desk.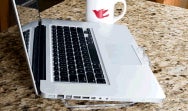 The TrayStation, compatible with all current and previous Apple laptops, is available for order for $55; it will ship by November 2. You can also buy additional acrylic trays for $25 each or two for $45.