A baseball game can change in an instant. Just ask fans of those teams in the 2009 MLB playoffs.
As any baseball fan can tell you, a team's season hangs in the balance with seemingly every pitch during the postseason. Often unlikely heroes emerge and propel their teams to victory. The rise of sabermetrics—using statistics and analysis to better understand baseball—give fans and managers new ways to see just which players and plays help their teams win. FanGraphs Baseball for the iPhone is a must-have application for any fans interested in learning more about the game they love.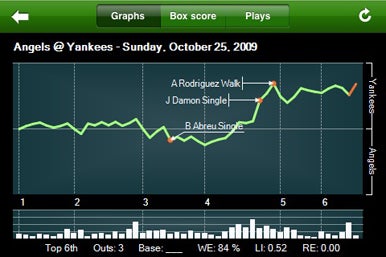 The iPhone and iPod touch app is an extension of the popular FanGraphs.com Website. As with the Website, the FanGraphs app features box scores, win probability charts and play-by-play summaries, all of which are updated live during the season. (The developer says the app will include live data for both the 2009 playoffs and the 2010 season.) If you're unfamiliar with the concept, win probability charts graph every at-bat during a game, charting how each play impacts the probability that either team will come out on top. FanGraphs also includes a glossary of sabermetric statistics for fans new to the concept.
The application features player profiles, which include both traditional and sabermetric statistics. Even more impressive is the sheer size of the available information—the application includes archives for games dating back to the 1974 season. If you want to look up the pivotal moment of the June 13, 1978 game between the Cleveland Indians and the Chicago White Sox, you can use FanGraphs to do precisely that.
While FanGraphs includes profiles for all major league players since 1974, it is difficult to navigate between profiles. FanGraphs does not link between profiles, so if you want to look at a player's page after viewing a box score, you must exit the box score and search for the player on a different screen. In a sharp, informative and visually appealing application, this is a minor-yet-unavoidable frustration.
FanGraphs Baseball is a perfect companion for any baseball fan, especially with the World Series about to commence. With access to a wealth of information, this app should be within of any iPhone-toting fan from the first pitch to the final out.
[Brendan Wilhide is a frequent contributor to Macworld. He covers athletes and the sports industry on Twitter at Sportsin140.com.]