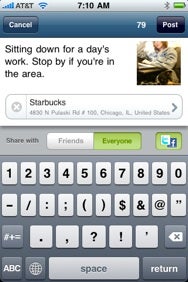 Location-based social networking service Brightkite recently gave its website a 2.0 makeover. Users now have per-post control over privacy and social broadcasting, and a new "friend/fan" model removes the pressure of having to accept requests from strangers. For iPhone and iPod touch users who take Brightkite on-the-go, these new features have also made it into a much-upgraded iPhone app.
Brightkite 2.0 for iPhone includes just about all of the service's new features, including per-post privacy and social options, the new friend/fan system, and a better overall experience. New, unobtrusive buttons on each post and photo allow you to pick whether only your friends can see it, or whether you share with the public. You can also toggle whether each post gets syndicated to your Twitter, Facebook, and Flickr accounts, offering far more freedom over how much of your location-based adventures leak out to your other friends.
The new friend/fan system is likely to boost Brightkite activity, as it works a bit more like Facebook's, and very much unlike Twitter's. Much like in the real world, "friends" are two people who mutually follow each other, while "fans" are people who follow you, but for whatever reason, you do not (yet?) follow back. With this straightforward and more realistic system, you can either share your location check-in activity with the world (including fans), or only with friends, which will prevent both the public, non-Brightkite users, as well as Brightkite users who are fans, from seeing anything.
Of course, Brightkite's existing features are all still here and polished for the new version. The app can still automatically find your location, such as a Starbucks, a museum, or bar downtown, allow you to "check-in" to that location, and post text and photos about what you're doing there. You can search for other locations and see what people are doing there, and find people in your area with similar interests or a sense of humor that may actually jive with yours.
Brightkite says there are ten other new features packed into version 2.0 for the iPhone, so there's sure to be something for everyone. Both the service and iPhone app are free, and with all this simple-yet-powerful new control over your activity, you have even fewer excuses not to try it out.