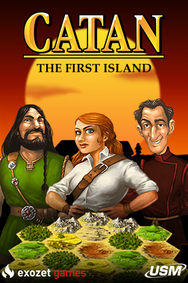 Well, it appears as though I can flush more productive time down the drain with the relase of Catan – The First Island for the iPhone and iPod touch. A port of the classic German board game, Catan casts you as one of the first settlers of an island, tasked with building up civilization and infrastructure via the amassing and trading of resources. And, as anybody who's ever played the real world version knows, it is also utterly addictive.
The iPhone version uses the same rules and also features a scrollable, zoomable game board, music and sound effects, game stats, and a tutorial mode. You can either play in a multiplayer "hot-seat" mode—handing around the iPhone to each player in turn—or versus computer opponents who sport their own strategies (and, is it my imagination, or does one of those computer opponents look suspiciously like Grand Moff Tarkin?).
As nifty as that is, the lack of a true peer-to-peer multiplayer is kind of a letdown. Half the game in Catan is strategizing about the board while your opponents are taking their turns. That's an experience I think the hot-seat mode will have trouble matching. But if you're still interested in boning up your skills on your own time, the game's just $5 and runs on any iPhone or iPod touch with iPhone OS 2.1 or later.
Fortunately, my Catan addiction has waned in recent years, with the help of treatment—as long as Puerto Rico doesn't show up, we're still cool, iPhone.