Memeo Share is a free iPhone app from Memeo for sharing photos with friends and family. Memeo Share started life as a Web-based app for uploading and tagging photos to share them easily with people of your choosing. Using the Web site or the cross-platform desktop Memeo clients, you could upload photos to Memeo's servers, and they'd magically show up (in full resolution) in your friends' Memeo accounts.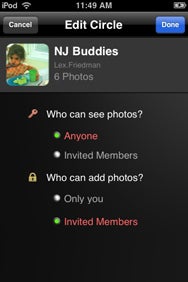 Memeo Share's iPhone app integrates quite nicely with the Web service. The app is well-designed, with an intuitive layout and a series of ever-present hints that slide in to explain how different screens work. The first time you launch the app, you'll need to create a Memeo account (or log in to your existing one). Once you're signed in, you can begin creating one or more "sharing circles." That's the name Memeo uses to refer to groups of friends or family that you want to share photos with.
Adding members to a new circle is pretty painless: You can choose from your iPhone's address book, or from friends you've added on the Memeo Web site.
When you create a new circle, you can choose whether it's public, or if only invited members may view the photos you publish. You can also choose whether the other invited members can upload photos to that circle, or if only you get that ability. When you upload photos with Memeo Share, members of that circle will soon see those images, whether they're using the Web site, one of the desktop clients, or their own copy of the iPhone app. Similarly, as you join other friends' circles, new photos that they share will automatically download when you run the app. (To date, Memeo Share does not support push notifications of new photos.)
For an app focused on photo sharing, though, Memeo Share does suffer some major, iPhone 1.0-esque oversights, the most glaring of which is the inability to upload multiple photos at once. When you have lots of photos to share—say, from a family outing where your iPhone served as the primary camera—it's probably easier to sync with your main computer and upload the photos to Memeo (or another sharing service) that way; one at a time just doesn't scale. There's also no way to delete photos that you've shared with a circle, which seems silly.
Since the app is so tightly integrated with the Memeo Share service, you'll need to consider whether that service suits your needs. A free account offers just 1GB of photo storage, but you can upgrade to unlimited storage for $5 monthly. (Note that a subscription's minimum contract is for one year, billed monthly.)
On the whole, Memeo Share is a well-implemented iPhone app, but it seems better suited to casual viewing of your friends' photos than simple sharing of your own. The desktop apps, with drag-and-drop and access to your complete photo library, seem better suited to that aspect. If you have a lot of buddies who use Memeo Share and don't mind seeing their photos on a small screen, Memeo Share makes sense.
[ Lex Friedman is a frequent Macworld contributor.]