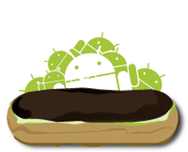 It would be fair of you to wonder what an éclair—that delicious, cream-filled, chocolate-topped French pastry—could possibly have to do with the mobile-computing field. Relax: it's not an edible phone, just the folks at Google having their usual fun. Éclair is the codename for Android 2.0, following naturally on the heels of Cupcake (version 1.5) and Donut (1.6). (Before you ask, yes, Flan is next.)
Android 2.0 is a substantial upgrade, and Google announced on Tuesday that it has added support for Android 2.0 into its software develeopment kit (SDK), meaning that developers can now start building application using its new features.
So what's the cream-filling in Google's éclair? The main focus of Android 2.0 appears to be improvements to Android's account management, contacts, and sync features. Devices running Android 2.0 will be able to log into multiple accounts and retrieve contacts and e-mail—and that includes support for Exchange accounts. Google's also built in a new sync conduit system that allows developers to easily write software that lets Android sync information from other online services.
Also front and center is a new system called Quick Contact, which allows users to quickly view all the different ways they can reach their contacts. For example, tap a picture of one of your friends in your Android contact list and it'll present you with icon options for all the different modes of communication that you have for them: phone, e-mail, text, IM, etc. It's a clear shot at the Synergy feature of Palm's webOS which aims to refocus communication as person-centric instead of medium-centric.
In addition, Android 2.0 features beefed-up camera controls, such as support for built-in flashes, digital zoom, white balance, macro focus, and more. There are also improvements to the system's virtual keyboard to make it more accurate and efficient—for example, it now suggests contact names as auto-completion options when you're typing. The e-mail client sports a unified inbox option—something the iPhone still lacks—and you can now search your SMS and MMS messages.
Android's browser has also gotten some love in this latest update, gaining support for HTML5, the ability to double-tap to zoom, and an improved UI, all of which are welcome changes and clearly aimed at bringing Android's Web browsing experience in line with competitors'.
We don't know when the Android update will find its way to existing users, but with the much-hyped Motorola Droid—which is reportedly running Android 2.0—due to launch as early as this week, it's likely to be soon. The iPhone has gotten a lot of mileage out of rolling out new features to existing users, and the bar's been set pretty high for the Google team, but Android continues to position itself as a powerful competitor in the mobile space.