CNN Mobile for the iPhone and iPod touch is a massively impressive news app. CNN Interactive Group's app combines articles, videos, and photos to offer a completely immersive news experience, featuring breaking news headlines from a wide variety of topics, all navigated through a smart and intuitive interface.
When you launch the app, you're presented with an image-laden list of news stories. A thin, scrollable tab bar at the top of the screen lets you choose from a long list of categories—World, US, Politics, Crime, Entertainment, Health, Travel, Tech, and Living—as well as Top Stories. You can scroll through the list of stories in each category, and tap into one to read it.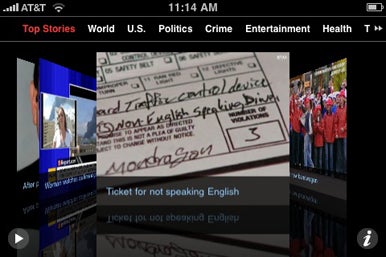 Turn the phone to landscape orientation, and you'll get a Cover Flow-esque view of news stories. While that view is eye-catching, it isn't that functional; headlines are harder to read, you must top an icon to see story highlights, and you have to rotate the phone back again anytime you want to read an article. I prefer portrait mode full-time.
Tapping into a news story presents an article, printed in white text on a black background, which makes everything easy and pleasant to read. Scrolling through articles is a breeze, and you can swipe to drag the next story into view. It's an intuitive gesture that feels very natural.
The My CNN tab offers local traffic and weather, along with local headlines. In my testing, the local headlines—while relevant to my area—were disappointingly generated from external sources, and thus linked to Web page views, instead of the slicker article view that the main stories employ. This isn't just an aesthetic complaint; these local articles are harder to read visually, tougher to scroll, and frustratingly slower to load.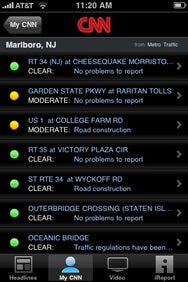 Also under My CNN, you can tap into Followed stories. You can choose to follow any topics of interest (I setup "Apple Inc." and "iPhone"), and the app automatically alerts you to new related stories. Oddly, though, the topics I could actually find to follow seemed rather hit and miss: I could follow "Netflix," but not "TiVo." And if I want iPhone news, do I need to follow both "iPhone" and "iPhone 3G," or would the former encompass the latter as expected? This is a clever feature, but could use some refinement. I'd prefer if it worked a bit more like Google News alerts, where I could put in my search terms and any matching stories would appear, instead of being limited to some predetermined list of eligible topics.
The app also sports a Videos tab, though many of the regular news stories feature videos already. Frankly, CNN Mobile is packed with video. In my experience it played quickly, stutter-free, and with more than passable sound quality—whether on Wi-Fi or 3G. My only disappointment with the video feature was something that bugs me about CNN's CNN's Web site, too: I'd prefer that any video news would include full-text accompaniment, since sometimes I have time or ability to read a news story, but not watch one.
Socially-inclined news aficionados will appreciate the app's numerous sharing options. When you tap Share a Story, you can choose to spread the news via text, e-mail, Twitter, or Facebook. Each worked capably in my testing.
Finally, the app also includes an iReport tab, which makes it easy to scan user-submitted stories from around the globe. You can also easily contribute iReport stories yourself, if generating content for CNN in exchange for no compensation (beyond the glory of doing so) appeals to you.
News junkies won't go wrong with CNN Mobile. It's the deepest and most complete news app for iPhone that I've encountered—perhpas that's why CNN is one of the few major news organizations to charge for its app—and it looks great to boot. Breaking news: Even at $2, an app of this quality and utility is a steal.
[ Lex Friedman is a frequent Macworld contributor.]