MediaQuake developed a fine news "reading" application for the iPhone and iPod touch—a time saver and a productivity enhancer that let you create playlists of news and blogs to listen to while on the go. But the original app was bedeviled by a few minor bugs and the worst name ever conceived by man or marketing executive: PimpMyNews. When I reviewed the app in May 2009, I wrote: "Hate the name, don't hate the news player."
The good people at MediaQuake took those criticisms to heart, down to the swipe at the name. PimpMyNews is now BuzzVoice Talks. The new news service launched in September—it's on sale for $2 as of this writing.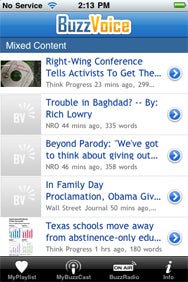 Although BuzzVoice Talks is substantially similar to PimpMyNews, the name isn't the only big change. BuzzVoice gives you more options. MediaQuake listened to users' suggestions and added about 200 new sources. You can now choose from among more than 1,400 news sites and weblogs. You can view any story's original text, along with images and video.More important, BuzzVoice increased the number of feeds you can stream from 10 to 50.
And what was the app's most appealing feature before is now even more appealing: A personalized daily podcast, which once rounded up your 10 favorite news feeds in a short 10-minute newscast, now comes in an expanded 30-minute version with a monthly paid subscription to BuzzVoice's "Pro" service. (Another benefit of going "Pro": You can choose the sex of the robot voice that reads your news.)
BuzzVoice lets you manage your feeds from the app or through the BuzzVoice Website, which is probably the easiest option. A new "BuzzRadio" tab lets you stream news more or less continuously. Or you can also browse your feeds and listen to stories one at a time. These new features and improvements are arguably worth the $4 monthly subscription price.
Wirus's Tick Talk aspires to BuzzVoice's excellence, but falls well short of the mark. Although the app appears under the news section of the App Store, it's difficult to describe Tick Talk as a news app. It's really more of a novelty alarm clock—hence the name—that will read headlines from a single RSS feed in a genteel but unmistakably robotic pseudo-British accent.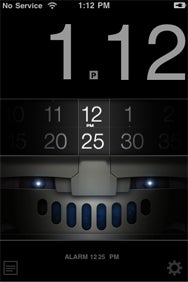 When you launch Tick Talk, you see two clocks—one displaying the current time horizontally and the second showing your alarm clock time vertically in two horizontal scroll wheels. You can adjust the alarm clock by moving the scroll wheels, but the interface mechanics are awkward and the time does not always line up. At the very bottom of the screen is your robot. When he's sleeping at startup, the robot resembles an Easter Island statue. The alarm clock or an upward brush of your finger awakens the bot, which will greet you based on the time of day and proceed to read headlines from your RSS feed.
If Tick Talk were more like BuzzVoice and could accommodate more than a single feed and read more than just headlines, it might be a worthwhile app. As it is, however, the app requires a great deal of space—20MB on your handheld that might be otherwise occupied by music or pinball games—to do remarkably little.
You can customize the robot's greeting and sign off saying and that's about all. It doesn't even work in the background! You need to have the app open for the alarm to work. The app requires a Wi-Fi or 3G/Edge connection, and, yes, it does crash. Bottom line: Of all the wonderful things the iPhone can do to make your life better, it appears the world must wait a little longer for a decent clock radio app.
[Ben Boychuk is a columnist and freelance writer in Rialto, Calif. Feel free to e-mail him.]