Whether you do the job yourself, or hire someone else, scanning boxes of old photos, slides, and negatives is a big undertaking. And turning those old analog pictures into digital files is only the first hurdle in the process. Next, you need to find the best way to organize and protect all of those valuable digital files. Here are four steps you shouldn't skip.
Start fresh
iPhoto is a great application to help you keep photo projects organized. When handling a batch of scanned photos, it's a good idea to create a new library just for those newly added images. That will keep your existing photos from getting mixed up with your new images. And as an added bonus, smaller iPhoto libraries tend to perform better than huge libraries.
To create a new library, hold down the Option key while you launch iPhoto, click the Create New button, and then name your new library. Keep it in the Pictures folder, or the location where your other iPhoto libraries reside. You can just as easily switch among multiple iPhoto libraries by holding down the same option key at start up, then choosing the library you want to open.
If you used an outside service for digitizing, place the master disc they sent in your Mac's optical drive. In iPhoto, go to File -> Import into Library, and navigate to your master disc. You may have a single folder full of images on the disc, or a master folder with subfolders in it. Pick the master folder to import; iPhoto will sort things out once the pictures have been uploaded. If you scanned the images yourself, navigate to the folder, drive, or disk where they're saved.
Once all the images have been transferred, click Events in the Library pane. You will either see one Event for each single folder full of scans, or multiple Events, one representing each subfolder.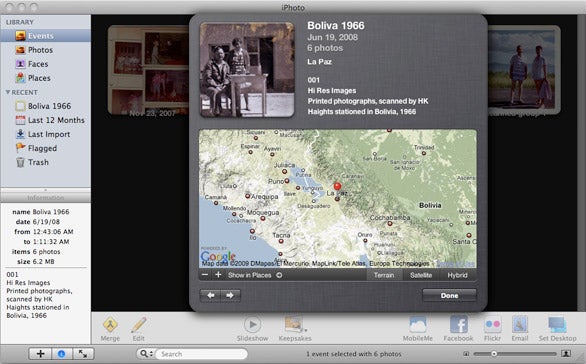 Hover over the Event thumbnail and click the information button that appears (i). Alternatively, you can click one of the Events, and then click the blue Information button at the bottom of the Library pane. Now you can rename your Event by clicking the Name field. You should also add a brief description of those images. Start by creating a disc number, such as 001. Then below that type the original file folder name as it appears on the disc, such as "Hi Res Negs." Then complete your description field by adding what the original media was, who scanned it, and some notes about the pictures themselves. You can even assign a place to the entire album.
Correct the date
One thing you'll notice is that the date is set for when the images were digitized, not when they were actually taken. This is a big problem for archiving projects. Fortunately, iPhoto has a nifty tool to correct the date.
Open the Event by double-clicking it, and select a handful of photos that were taken in the same timeframe. Go to Photos -> Adjust Date and Time. If you want, you can modify the metadata for the original scan file by checking the "Modify Original Files" box. Otherwise, iPhoto will leave the originals alone, but keep track of the adjusted time in its database. When you are done, click the Adjust button. Now the Information box for your Event will reflect the proper time span for the images it contains. Repeat this process for each of the Events you uploaded.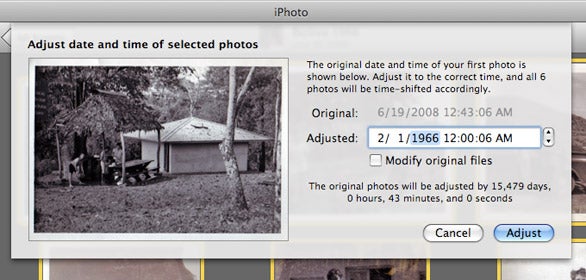 Preserve original discs and media
When you eject the original optical disc from your Mac, label it with a CD safe pen—a solvent-free marker that doesn't corrode the top layer of your DVDs. Include the disc number, name of the iPhoto library, and the renamed Events. You may want to add the time span for the images on that disc. This becomes your archived backup that should be kept in a separate location from your Mac. If you ever need to go back to the original scans, all you have to do is match up the information you typed in iPhoto's Event description field with the proper disc.
Some archivists take this a step further by organizing the original media (prints, slides, or negatives) in Print File "photo safe" sheets, including the disc number, folder name, and iPhoto Library title on the archival sleeve. Those pages can then be stored in 3-ring binders, preferable in a separate location from the master discs.
Once your finish this process for the upload, you can then create albums, add location information via Places, or start your Faces cork board so you can easily sort by person. This is the fun part of the job: actually working with the pictures that you have rescued from under the bed.
Back up your files
Now that you have digitized and organized your valued pictures, is a good idea to back up your iPhoto library. This way you can save your sorted original scanned files before starting on any additional restoration efforts.
The simplest way to do this is to connect an external hard drive to your Mac, find the iPhoto library for this project (most likely in your Pictures folder) and drag it over to the external drive. This creates an exact duplicate of your library. You can create a folder labeled with the backup date, such as 'iPhoto BU 05-08-09,' and put the library in there. Then, next time you back up, create a new folder and put the latest library in there. You can delete old back ups once new ones have been added. I recommend combining your hard-drive backup with DVD copies of your most important items.
You may have used a scanning service that puts your images online. While convenient, relying on a third-party backup solution isn't the most reliable long-term plan. Make sure you have additional back ups too. You can use the online service as part of your archive strategy, but not the only aspect. Remember, you still have the original items, which makes this a bit less stressful than backing up digital only files.
If your library is only a few gigabytes, you can use the Burn option in iPhoto to save a copy to DVD. I don't like this approach as much because it doesn't save your Faces database, so it's not really protecting all of your work. But, if you don't use Faces, it's a reasonable approach that doesn't require an external hard drive.
[Senior Contributor and professional photographer Derrick Story teaches iPhoto on Lynda.com and runs a virtual camera club at The Digital Story.]