At a Glance
Expert's Rating
Pros
Supports both S-Video and Composite video
Includes limited version of Toast 9
Easy to use
Copies copy-protected VHS tapes
Standard and high quality settings
Cons
No controls for adjusting video or audio settings
No trim option
Our Verdict
Many people of a certain age have—hidden away among a lifetime of possessions—a large carton brimming with VHS tapes. Like all taped-based media, these tapes are slowly deteriorating. If some of them hold memories that you'd like to continue to carry with you, you should digitize them and store copies on more reliable media.
Two products can help you do just that: Roxio's $80 Easy VHS to DVD and Elgato's $100 Video Capture. Each is easy to use and, other than price, the main difference between them is the greater number of options offered by the Elgato package.
Converter plus software
Both tools include a USB converter that has a male USB connector on one end and Composite video, S-Video, and RCA audio inputs on the other. The Elgato converter bears a longer cable than the Roxio unit and also includes a Composite-to-SCART adapter (SCART is a variety of AV connector commonly found in Europe). The Roxio package lacks this largely-unnecessary-in-the-U.S. adapter. Jack the converter into a free USB 2.0 port, string either an S-Video or Composite video cable between your VHS or camcorder and the converter, do the same with the RCA cables, and launch the software.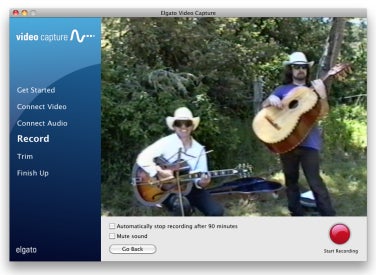 The applications are quite similar. Each walks you through the steps for digitizing the video—making sure you have both a video and audio signal and providing you with a large red Record button for starting the capture. Once you finish capturing the video, each provides you with options for exporting it. Both are capable of copying commercial VHS tapes, even those that are copy-protected.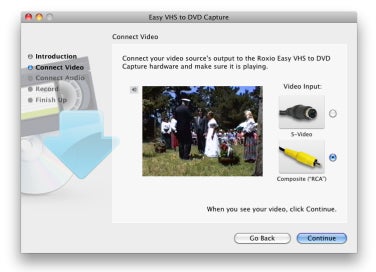 The specific variations between them are these:
The Roxio software lets you choose Standard or High Quality settings. Standard quality is MPEG-2 video at a bit rate of 4 Mbps, recording 48kHz audio at 224 kbps. The video is converted to another format when you export it (to AIC when you open it in iMovie and MPEG-4 when you send it to QuickTime). High quality bumps up the video bit rate to 6 Mbps and the audio rate to 384 kbps. The Elgato product doesn't include quality settings. The Elgato software lets you set an aspect ratio—4:3 or 16:9, while Easy VHS to DVD Capture doesn't. The Elgato software lets you choose to export video either as H.264 or MPEG-4 files.
And this is in line with the way Easy VHS to DVD Capture goes about its business. It provides you with very few options. Another example: Within the Video Capture application you have the opportunity to adjust a video source's brightness, contrast, saturation, and hue. You can also adjust the source's volume. Easy VHS to DVD Capture doesn't provide any of these options. While you can certainly adjust these kinds of settings later in an editing application such as a iMovie '09 ( ), it's convenient to have access to them within the capture application.
Video Capture is also more generous with its preview window and it lets you trim your video within the application. Each application lets you see the source video, but Video Capture provides a larger view of it. It also supplies more export options. With the Roxio application you have three options: Send to Toast (a very limited version of Toast 9 is included), Edit With iMovie, and Send to QuickTime Player. Video Capture offers Play With QuickTime Player, Add to iTunes, Edit With iMovie, and Upload to YouTube.
The results
Using the applications' default settings, there isn't much difference in the resulting movies. As you'd expect, they're of VHS quality—about as good as the original, complete with grain and softness. I found the audio output of Easy VHS to DVD Capture to be a little loud compared to Video Capture. But, again, you can adjust Video Capture's audio and video settings.
Macworld's buying advice
Which to choose largely comes down to money versus polish. Elgato's Video Capture is the more complete product with its support for both H.264 and MPEG-4 export, video and audio adjustment, larger preview window, choice of aspect ratios, trimming, included SCART adapter, and YouTube upload option. If those features are worth an extra $20 to you, that's the best choice. If not, and you're willing to spend some time trimming and adjusting the video in an editing application, Roxio's Easy VHS to DVD is a perfectly reasonable choice.