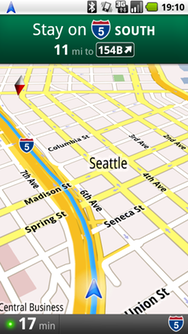 Congrats, Google: you've finally rolled out a mobile feature that's got me ooh-ing and ahh-ing. In advance of the Droid launch, Google has publicly dished on its new turn-by-direction service, Google Navigation, which will be available on Android 2.0 mobile devices. It's currently, of course, in beta—this is Google we're talking about, after all—but also in typical Google fashion, it'll be free when it's released.
Based on Google Maps data, Google Navigation is pretty much exactly the kind of turn-by-turn navigation solution that you'd expect Google to develop. In addition to existing Google Maps features like traffic information and satellite views, Google Navigation also mixes in plain English searching, searching by voice, and Street View integration that actually allows you to see what your turns will look like.
The real strength of the Navigation features is that it's backed by Google, which can leverage its search prowess to allow for nifty features such as asking for directions to "the museum with the King Tut exhibit." It can also easily help you find places to stop along your trip, should you want to pause for some food. The Navigation app can also apparently collect speed and distance information to build a more accurate picture of live traffic, much like the Dash GPS device that Research In Motion acquired.
So, what does this mean for iPhone users? According to Reuters, Google Engineering Vice President Vic Gundotra said the iPhone 3GS is technically capable of running the Navigation application, but he didn't confirm or deny whether it would show up on the platform. Given the relationship between Google and Apple of late, the chances seem iffy. But with most iPhone turn-by-turn apps currently expensive add-ons, I'd guess a built-in solution would be appealing to Apple—especially now that it'll have to compete with Android's new functionality. One thing's for sure: the once-slick Google Maps on the iPhone is going to look outdated pretty quick.
A free turn-by-turn directions app for mobile phone is also a shot across the bow of the wireless carriers, most of which offer their own turn-by-turn direction apps that require a monthly fee, such as AT&T Navigator, which is also available for other cell phone platforms. It's another indication that the growing prominence of smartphones is shifting the balance of power in the mobile space from carriers to device providers.
The video below features a demo from a Google product manager who looks like he took about half of an Apple course on presentations. At present, the Navigation system only works in the U.S.
[via GigaOm]
Read more…