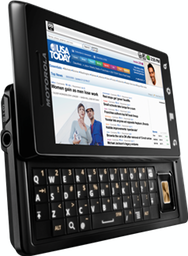 Is this the droid you're looking for? The Motorola Droid made its debut on Wednesday after a relatively brief—if attention-grabbing—ad campaign that targeted the iPhone's perceived shortcomings. The handset, which runs the recently announced Android 2.0 software, will be available starting November 6, exclusively on the Verizon Wireless network. It will cost $199 with a two-year contract, after a $100 mail-in rebate.
As an earlier product leak suggested, the 2.4 by 4.6 by .5-inch phone's specs feature a 5-megapixel camera, 802.11 b/g Wi-Fi, Bluetooth, and built-in GPS with those snazzy new turn-by-turn directions from Google. The underlying chip is a 550MHz processor, and the 6-ounce device has a 3.7-inch screen boasting a 480 by 854 resolution. There isn't any built-in storage, but it does include a 16GB SD card and there's support for up to 32GB of storage. A slide-out physical keyboard and direcitonal-pad supplement a virtual keyboard and the touch interface. The phone uses a CDMA-based wireless chip that supports the EVDO standard, which is Verizon's 3G weapon of choice.
The Droid handles all of the standard media formats, inccluding AAC, H.264, and MPEG-4 as well as a couple of extras like WAV, WMA, and even OGG. Its camera can take video at a resolution of 720 by 480 for up to 24 fps and also features image stabilization, real-time effects, auto-focus, and a dual LED flash. Motorola says the battery boasts up to 6.4 hours of usage time and 270 hours of standby.
Perhaps most interesting of all is what's not included in the package: namely Verizon's own premium services. According to CNet, there's currently no support for Verizon's VCast music service (though there is support for Amazon MP3) and no VZ Navigator turn-by-turn directions application (given the built-in Google Navigation features). It's unknown at present whether Google Verizon has locked down the Droid's Bluetooth functionality as it does with most of its other handsets, but given the network's newfound dedication to openness in its much-hyped strategic partnership with Google—of which the Droid is the first product—that would seem like a faux pas.
The phone's capabilities and specifications make it a clear competitor to the iPhone. The announcement touts the Android Market's 10000 applications, despite the fact Apple's App Store is due to surpass ten times that amount imminently. Still, there's an even heavier focus on the included Google features—and the search giant is all over this device, despite Motorola's brand on the handset. It would seem the conflict between Apple and Google is finally in full swing.