If you're in a foreign country and can't figure out what the street sign—or worse, the restaurant menu—says, but you're carrying your iPhone, you may be in luck. With Codium Labs' new Babelshot app, you can use your iPhone's camera to take a photo of the text, and get a translation moments later.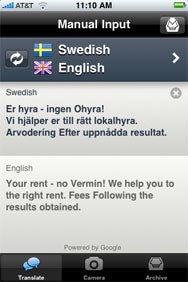 The app can translate Afrikaans, Albanian, Catalan, Croatian, Czech, Danish, Dutch, English, Estonian, Finnish, French, Galician, German, Hungarian, Icelandic, Indonesian, Italian, Latvian, Lithuanian, Malay, Maltese, Norwegian, Polish, Portuguese, Romanian, Slovak, Slovenian, Spanish, Swahili, Swedish, Tagalog, and Turkish. Apparently, there's no support for Pig Latin yet.
In fact, the app can translate even more languages, if you're willing to tap the foreign text into your iPhone instead of snapping the photo. iPod touch owners and patient iPhone tappers can translate all of the above languages, plus Arabic, Belarusian, Bulgarian, Chinese, Greek, Hebrew, Hindi, Japanese, Korean, Macedonian, Persian, Russian, Serbian, Thai, Ukrainian, and Vietnamese. Of course, if you don't speak the language, I imagine it'd be pretty tough to type in a foreign alphabet.
Unless you're using the iPhone 3GS with its better-focusing camera, you'll also need the Clarifi case from Griffin Technology to photograph any text smaller than a newspaper headline. And you'll need to be online (either via Wi-Fi or cell service) to get your translation back, so make sure you have a good roaming data plan before you plunk yourself down in the middle of Italy without a guidebook.
Babelshot costs $2 and is available now in the App Store.