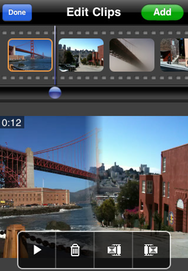 The iPhone 3GS allows users to record, trim and share video. It's a capable camera, but the iPhone software's video features don't quite pack enough punch to completely cut iMovie or Windows Movie Maker out of your workflow. Wouldn't it be great if it could do so much more?
ReelDirector is an iPhone app by Nexvio that allows for more sophisticated video-editing right on the phone. Much like the plethora of photo-editing and painting apps already available for the iPhone aren't Photoshop replacements, it's not about to render Final Cut Pro useless. However, as an iMovie alternative for the road, it's more than capable of doing simple edits to make your clips look better than the average YouTube video.
With ReelDirector, you can arrange and stitch recorded video clips on a scrollable timeline made to look like a filmstrip. There are four different styles of text overlays you can choose from to tell viewers what exactly they're looking at. It's perfect to help explain to your family that, no, that's not a bear cub or Cousin Itt—it's your son, and he needs a haircut desperately.
To help your video blend together smoothly, you can choose between ten different kinds of transitions and several variations thereof for a total of 27 transitions, all chosen through a picker interface with live previews. Each transition can be added or changed non-destructively, so if you've added a few too many of those really cool cross-dissolves to your video and it's giving your viewers a headache, you can simply go back to that project and export again as necessary.
When you've finished your minor masterpiece, ReelDirector allows you to share video via e-mail or save your project as a video in the Camera Roll for syncing. Easy!
Nexvio plans to add voiceover support in future releases, and it's eager to hear your feedback for feature requests. It's also made a tutorial video to demonstrate how to use ReelDirector but, despite appearances, the app isn't yet capable of mixing music together with video. For now, you can use the e-mail feature to ask your friend to spend a few minutes in iMovie or Windows Movie Maker adding music and kicking your movie up a notch.
ReelDirector costs $8 and is in the App Store now. It's compatible only with the iPhone 3GS and requires iPhone OS 3.0 at a bare minimum; you'll need iPhone OS 3.1 to export projects to the Camera Roll as videos or e-mail them to friends.
[via Cult of Mac]