Time can take a toll on your old prints, slides, and negatives. Often with scanned old snapshots, you have to deal with faded colors, scratches, and other imperfections. Luckily, one of the benefits of digitizing your old images is that you can restore them at the same time.
Some scanning services and bundled scanner programs will make automatic color corrections to your old images, but they're not always accurate. iPhoto has some great and easy to understand adjustment features to help you bring out the best in each of your treasured photographs.
Try auto-enhancing
Begin by choosing the image you want to restore, then click on the Edit button at the bottom of the iPhoto interface. In editing mode, first try the Enhance button. Sometimes this "magic correction" hits a home run, other times you can't even see a difference. If you open up the Adjust palette before hitting the Enhance button, it will show you exactly what changes it's making to the image. You can further refine them, or hit the reset button if you aren't thrilled with what you see.

Remove small imperfections
Another handy tool for working on old photos is the Retouch brush. Click on it, set the diameter of your brush tip using the left and right bracket keys, then use it to remove dust marks and other blemishes. Just click on them and they disappear. For the best results, set your brush diameter a little larger than the area you're correcting, work carefully, and if you can't improve it, let it be.
Fine tune with the Adjust palette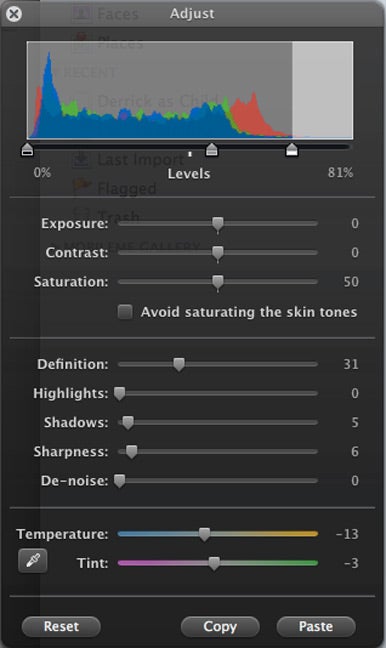 To further tweak tone and color, open the Adjust palette. Take a look at the Levels histogram at the top of the palette. Often with scans, the highlights are a bit muddy. You can fix that by moving the triangle pointer on the right side in toward the edge of the histogram (the graphical representation of all the tones in your image; it usually looks like a silhouette of a mountain) to brighten things up.
Next, attack the color balance. Click on the eyedropper in the Temperature pane, then click on a neutral white or gray area in the photograph to correct the color (areas without color, such as a white wall or grayish object, such as the color of a MacBook Pro). If you click on something and the color still doesn't look right, don't worry, try another area until you have success.). You can fine tune with the temperature and tint sliders. Most of your adjustments will only require a little fine tuning on the blue to yellow slider. Move the pointer toward the yellow end to warm up photos, and toward the blue end to cool them.
Finally, you may want to add a little definition (midtone contrast and sharpening) and overall sharpening. These are both moderate adjustments. In other words, a little definition and sharpening (20-40 on the slider scale) is often helpful, but getting heavy handed can degrade the appearance of your image.

Step back and assess
At this point you can really evaluate the photo. You may decide that some cropping is in order. If you want to keep your snapshot proportions, then check the box next to Constrain, and choose 4×6 from the pop up menu. Choose the area you want to keep, then hit Apply. Since image edits are nondestructive in iPhoto 09, you can always return to cropping and change your mind.
Once you've made your adjustments, press the Shift key to see a before and after version of the shot. If you like what you've accomplished, click on the Done key, or press one of the arrows to move to another photo. Either way, your changes are saved. if you decide you don't like anything you've done while still in editing mode, press the Escape key to exit without applying any of the adjustments.
Don't go overboard
Older photos have some character that you may want to preserve while retouching. Don't feel the need to make the image absolutely perfect by modern standards. After all, it is an old photo. Luckily, when you work with a nondestructive image editor such as iPhoto or Aperture, you can always change your mind and revert to the original.
[Senior Contributor and professional photographer Derrick Story teaches iPhoto on Lynda.com and runs a virtual camera club at The Digital Story.]
Note: When you purchase something after clicking links in our articles, we may earn a small commission. Read our affiliate link policy for more details.