At a Glance
Expert's Rating
Our Verdict
A few years ago, I covered SMARTReporter, a simple, free utility for monitoring your drives' Self-Monitoring Analysis and Reporting Technology (SMART) status. As I explained at the time, SMART is technology built into all modern hard drives that monitors various parameters of a drive's performance—temperature, error rates, and more—warning you if any of them is out of the normal range.
The problem with SMART is that it requires software on the host computer that queries the drive for its SMART status and then reports that status to the user. While SMARTReporter is useful for basic SMART monitoring, SMART Utility offers more features and provides more details about each drive's health.
(Note that SMART works only with PATA and SATA drives connected directly to a PATA or SATA bus; very few FireWire and USB enclosures pass SMART data to the host computer. This means that SMART-monitoring software can't warn you of possible problems with external drives. In addition, it's worth noting that a drive's SMART status won't warn you about every drive failure—it can't generally predict instantaneous, catastrophic failure, and it won't detect software issues such as a corrupt disk directory—but it can alert you to potential failures indicated by unusual SMART values.)
SMART Utility monitors the SMART attributes of all supported drives, using the Unix tool smartmontools, displaying the results in the program's main window. Click on a drive—the drive itself, labeled with a drive ID such as /dev/disk1, rather than name of a volume on the drive—to view information about it: model, serial number, basic attributes, and more. Click on the More Info or Show All button next to a type of data to get more details.
This info is interesting, and even useful, but it's when your drive is having problems that SMART Utility is especially helpful: A drive that exhibits readings outside the normal ranges appears in red in the drive listing. In addition, if you have Growl installed—and I highly recommend that you install it—you'll also get an onscreen notification if a drive is failing or has failed. (What's the difference between a Failing status and a Failed status? Failed means the drive failed its own internal testing. Failing means the drive failed SMART Utility's separate algorithm for predicting drive failure.)
In general, such a warning means you should immediately back up the data on that drive and replace the drive. (Many hard drive and computer manufacturers will replace a drive under warranty based solely on a failed SMART test.) SMART Utility also monitors the number of bad blocks on each drive; even a small number of bad blocks is a good indicator that a drive is on its way to failure.
Select a failing drive, and its More Info or Show All button for the offending attributes will also be red; click on that button to see which specific attributes are causing the alert. For example, in the graphic below, SMART Utility shows that the offending attribute is an out-of-normal-range value for the Airflow Temperature test.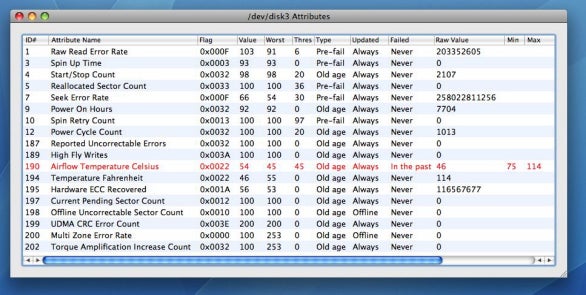 (Note that the particular error I experienced, Airflow Temperature, along with one called Reallocated Event Count, may or may not actually indicate a drive is failing. The developer of SMART Utility provides more information about these iffy indicators in the program's Help. If, after reading this information, you decide not to worry about these two errors, you can disable them in SMART Utility's preferences.)
You can customize a number of aspects of SMART Utility's operation, including choosing how often drives are scanned and modifying various thresholds for displaying alerts. SMART Utility also lets you manually run each drive's built-in self-tests.
Unfortunately, whereas SMARTReporter can run in the background, with or without a menu-bar icon, SMART Utility is a standard Mac program, which means it appears in the Dock whenever it's running; I'd have preferred an approach similar to that of SMARTReporter. I'd also like to see additional alert options, similar to those provided by SMARTReporter; for example, e-mail alerts and the capability to launch an application or run an AppleScript. But SMART Utility's additional drive details could make it more useful than SMARTReporter for many people.
Want to stay up to date with the latest Gems? Sign up for the Mac Gems newsletter for a weekly e-mail summary of Gems reviews sent directly to your Inbox.