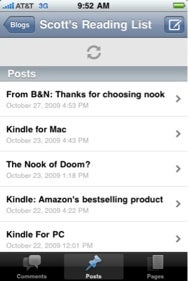 WordPress users on the go will be happy to hear that WordPress 2, a significant update to the WordPress app, is now available from the App Store. Interestingly, WordPress 2 is listed as an entirely new app, so if you have the WordPress 1.0 app on your iPhone you won't be notified about the update. You have to download WordPress 2 on its own, though you can have both versions installed on your iPhone/iPod touch.
WordPress 2 sports an entirely redesigned interface that makes it easier to moderate comments, edit pages, and create new posts. WordPress 2 also fixes a number of problems the previous app had connecting to self-hosted WordPress installs (WordPress 2 is compatible with both WordPress.com and self-hosted WordPress installs, though it requires WordPress 2.7 or higher).
The updated app also adds a handful of enhancements: posts are automatically saved so they won't be lost if you lose network connectivity, commenter gravatars are displayed (if you have them enabled on your blog), and you can enter a custom XML-RPC endpoint (for those that know what this means it's quite exciting).
You can find out more about WordPress 2 at the WordPress for iPhone blog and the Making WordPress for iPhone blog (remember the WordPress app is open source).