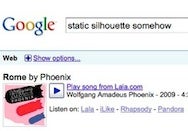 In an effort to make searching for and buying songs easier, Google has gotten into the music game, in partnership with online music stores like iLike (which is now a part of MySpace) and Lala—no mention of iTunes or Amazon MP3 though. From now on, when you search for the name of any song on Google, the first result will actually allow you to preview the song right on the page, and then proceed to buying it, if you like what you hear.
This doesn't just work with song names either. You'll be able to search for artist names in order to check out their most popular music and even snatches of lyrics from songs you don't have any other information for. Of course, the accuracy of the results will be limited by the size of Lala and MySpace's catalogues, but you should be able to get the right result most of the time.
Furthermore, links to music discovery services like imeem, Pandora, and Rhapsody embedded in the search results will also allow you to jump directly to those sites and find more music similar to the song you searched for. And, of course, as is Google's wont, all of these features are completely free for everyone to use (except, you know, the part where you actually purchase the songs).
That said, I haven't been able to get said features to work yet, so maybe they haven't been enabled yet or are being rolled out gradually. Whatever the case, you should soon be able to get all your music-related needs serviced by that little search box in the top-right corner of your web browser. And that, my dear friends, sounds like really good news to me. Google's launch video for music search is embedded after the break.
[via TechChunks]
Read more…