A month and a half after dropping the 40GB Apple TV model and dropping the price on the remaining, 160GB, version to $229, Apple has now dropped a new software version on Apple TV ( ) users.
On Thursday, the company released Apple TV 3.0 software. The updated software offers a new main menu interface that provides direct access to rented and purchased movies, TV shows, music, podcasts, photos, and YouTube videos. Your content (My Movies, for example) now sits at the top of lists instead of at the bottom. Once you drill down into secondary menus, however, the interface is the same as before.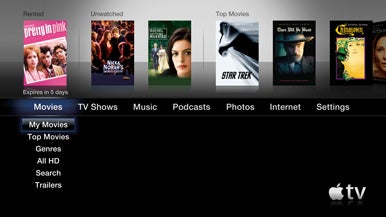 The new software also lets Apple TV users enjoy iTunes LP and iTunes Extras content for albums and movies, respectively. (Apple let the update, and the iTunes LP and Extras support specifically, slip earlier in the day by changing its iTunes Store terms of service.)
The Apple TV now supports Genius Mixes as well, a new feature of iTunes 9 that also works on some iPod models.
For photos, the latest software adds support for iPhoto '09's Events and Faces (but not Places) features.
Finally, Apple says you can now listen to thousands of Internet radio stations and tag stations for later listening. You could in fact listen to Internet radio on the Apple TV previously, you just had to put the stations in a playlist.
The software is a free update for all Apple TV owners.